Levante is a startup producing origami-inspired foldable solar panel by Sara Plaga and Kim-Joar Myklebust, both experienced sailors. During their travels by sailboat, they have often faced the need for clean energy.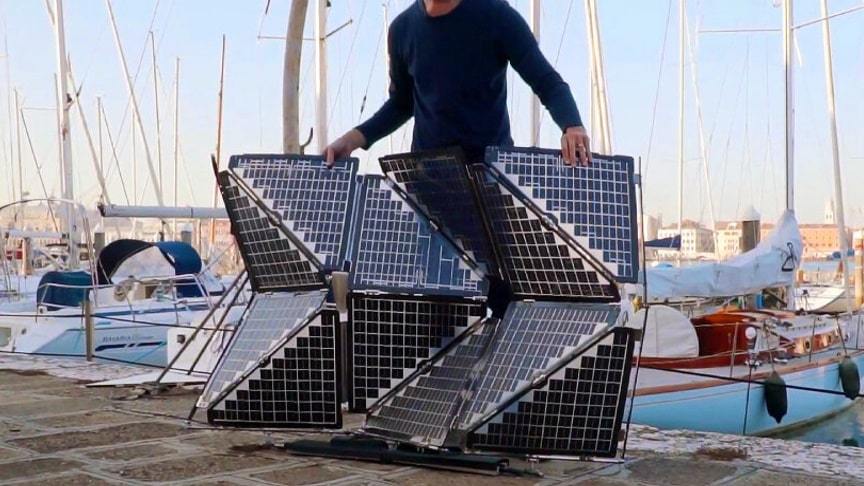 Through developing and testing this concept with marine industry experts Dan and Kika from Sailing Uma over the last two years we now have a product ready to launch in two sizes 300W and 500W.Perfect for applications where space for installation is limited, such as on a sailing boat, an RV, overlanding.
Thanks to its foldable mechanism,the Origami Solar Panel can be opened up into a rigid structure offering up to 500 watts of power – currently the highest on the market.Easily and quickly fold it down when the batteries are fully charged or when on the move. More than 8 times smaller when folded.
Advertisement
When not in use, close the panel into a compact structure producing 75W in 1.5 meters by 0.5 meters. The panel is 50% lighter than traditional solar panels due to the use of a carbon fiber structure, it also makes Levante solar panel really robust and light.
Plug a new module into the system to get more power.Detach a module and bring it with you for a daily trip.when the solar panels are open and sit in the sun all day, they can generate energy for the appliances in the camper van or boat with an estimate of 38 hours for a fridge, 27 hours for a laptop, four hours for an air conditioner, and an hour and a half for an induction stove.