Langley Research Center Unpressurized Crew Transport with Surface Habitat: 0605-LLPS-LaRC-2.This was a two-stage lander that incorporated unique, dockable rear-entry space suits for a crew of four on an unpressurized ascent stage. The ascent stage mission was designed for a nominal surface stay time of 7 days, and a return payload capacity of 100 kg (220 lbm).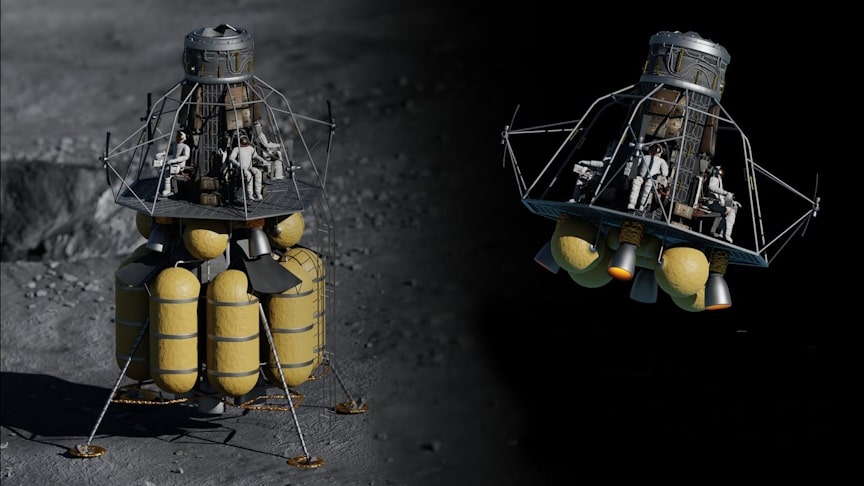 source.image: Hazegrayart
Descent Stage:Power The descent stage carried oxygen-hydrogen fuel cells for primary power; total peak power required by descent stage (when active) = 4.0 kW; total peak power required by descent stage (when inactive) = 500 W. 3D Animation by Hazegrayart:
Propulsion:The propulsion system had three LOX/LH2 descent engines that operated at an Isp of 459.7 sec. The engine thrust was 31.1 kN (7,000 lb). Oxygen boil-off was estimated to be at 1.2% per month and hydrogen boil-off was estimated to be at 4.3% per month. Descent delta-v: 1,900 m/s (6,233 ft/s).
Advertisement
Structures:The baseline primary structural material was aluminum 2024 or similar. There were two oxidizer tanks/four fuel tanks; The landing structures made up 3.3% of the total mass to be landed.Environmental Control and Life Support System:Standard ECLSS in pressurized habitat; 13.2 m3 (466 ft3) total habitable volume; 3.3 m3 (116.5 ft3) habitable volume per crew member; 14.2 m3 (500 ft3) total pressurized volume.