Presented for sale by Ottoex, Portland, OR. USA.This is one unique rig.The coach is mounted to the chassis with a 3-point mount system, allowing for proper flex separately from the cab while off-road.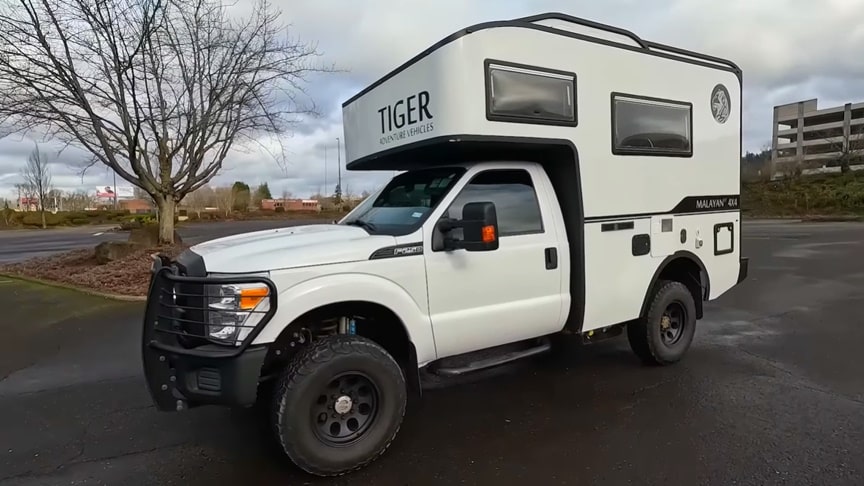 It is only 19ft in length, and it is amazing how many things are packed into this small but very capapble package. It is the only Malayan ever built on a regular cab chassis, giving is a short 137 inch wheelbase. You can maneuver anywhere and park it anywhere. The motorhome is powered by a 6.2 Liter 385 HP V8 Gas Boss Ford Engine connected to a 6 Speed Automatic 6R140 Heavy Duty Transmission.
It's fitted with a fully off-grid setup. This means 400 watts of solar, a 2800 watt inverter, insuated fully welded aluminum coach body custom built for only the Malayan and Siberian models. The smart interior layout features a full size cab-over bed, and a lower L dinette that converts into an additional bed.
Advertisement
A side galley, and rear bathroom / shower complete with a thetford casette toilet. On the outside it features a Westin front brush guard, westin running boards, a rear alumiinum ladder which takes you up to the roof. You'll find 4 x 100 Watt solar panels up top, providing a wealth of off-grid energy to power everything on board. The onboard plumbing system draws from a 30 Gallon fresh water tank, located inside the vehicle so it does not freeze at lower temperatures.