The Nautilus Car was designed by Carol Spier and of course entirely custom made for the production. The basic starting point, the chassis, is from a Land Rover Fire Tender. A unique fibreglass body was then added and a steel sub frame then constructed in the engine bay to house the Rover V8 engine required to power it. 6 enormous wheels, measuring 28 inches (72 cm) in diameter complete the basic car. The whole car also raises and lowers itself in spectacular style via a powerful hydraulic system.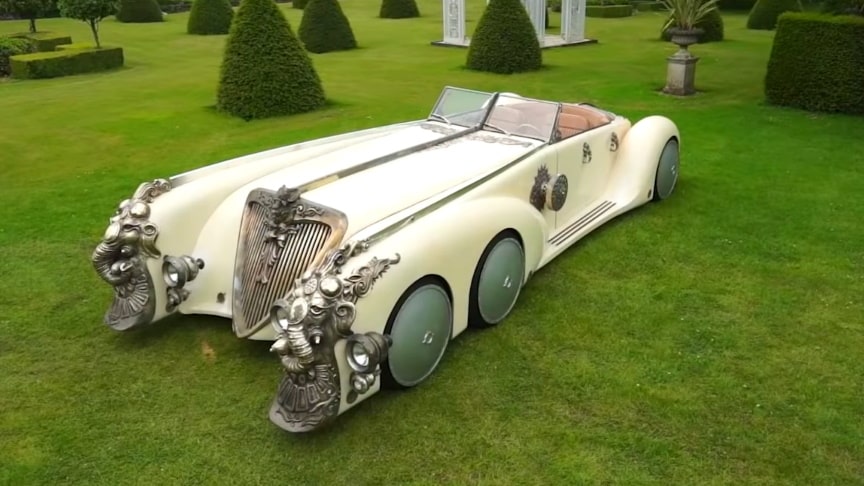 source/image(PrtSc): thepropstore
It is the detail and finish on the car is what really sets it apart from any other vehicle ever seen on the silver screen.To the front, either side of a vast decorative radiator grille are two representations of Ganesha, the Hindu deity. The elephant motif is repeated on the door handles. Other panels and sections all over the car feature carvings of Gods and symbols. These spectacular flourishes are finished in a gold colour dressed down by the art department to look aged and weathered.
The same level of attention continues within the cockpit area with intricate mouldings and decorations throughout.The off white paint work is finished in a flat tone with a deliberately cracked and crazed finish. There are some minor repairs and changes in colour dotted around the bodywork, evidence of running repairs on-going during filming. The original hard top is no longer present. There were only 2 cars made for filming, this one is the only complete running version.
Advertisement
The other had scaffolding permanently fixed around the seats to house the cameras for close ups on the actors.This car is spectacular. It measures 22 feet long and 9 feet wide. It is not suitable or legal for road use but the car still runs beautifully and retains most of its original functionality. The car will, according to those who have driven it, reach 80 miles an hours and will corner superbly!/thepropstore