The EarthRoamer LTi is the ultimate off-road camping vehicle built on a Ford Super Duty chassis.These wild machines combine the best in luxury camping with the toughness of heavy-duty Ford trucks. The fundamental design of the original LT is carried on in the latest LTi design, but many attributes of the design have been improved and advanced using the latest technologies available today.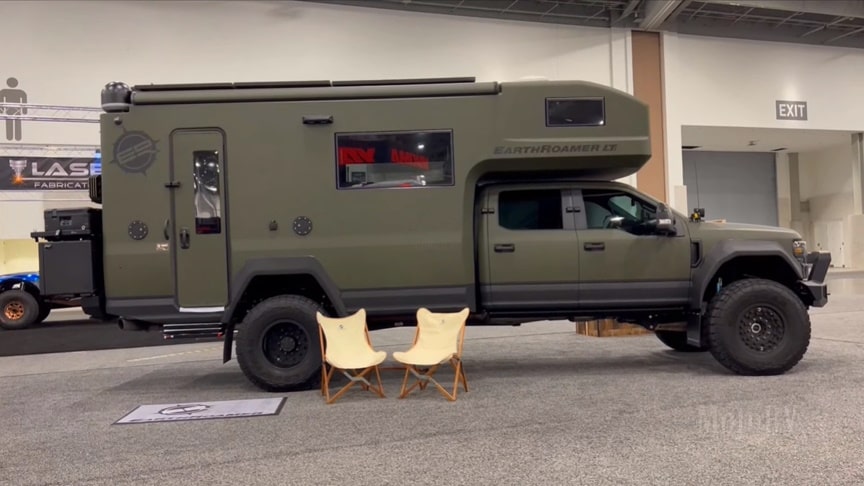 The EarthRoamer LTi distills the knowledge we have gained from building over 300 overland vehicles since 1998. These adventure vehicles have accumulated hundreds of thousands of miles on some of the world's harshest roads and trails, and have spent tens of thousands of nights camping in every weather condition on Earth.
The EarthRoamer LTi includes a vacuum-infused carbon fiber camper body, lithium-ion battery bank, bunk side windows, increased water capacity, and a touch screen interface all built on the Ford F-550 chassis that we know and love. This fully-equipped ultimate off-road camper is the most advanced EarthRoamer overland vehicle ever made and comes ready to hit the road, or whatever you choose to drive it on, the moment we hand you the keys.
Advertisement
The earthromer has a over-cab bunk bed that makes a great lounge area for reading, watching TV or listening to music, while the main cabin space provides seating for 2-6 based on your floor plan. There's nothing better than sleeping under the stars, especially when you're stargazing through the roof hatch of your EarthRoamer overland vehicle! Enjoy a king size memory foam bed in the bunk area, and options for comfy single beds or a queen down below. After a long day of adventure, the overcab bed is always ready and out of the way, with no cumbersome pop ups or slide outs to setup. The EarthRoamer LTi sleeps 2-4 people based on your floor plan.