The McDonnell Douglas MD-12 was a large wide-body airliner concept planned by the McDonnell Douglas company in the 1990s. It was first conceived as a trijet larger than the MD-11, then stretched to a quadjet airliner. It was to be similar in size to the Boeing 747, but with greater passenger capacity through two full-length passenger decks.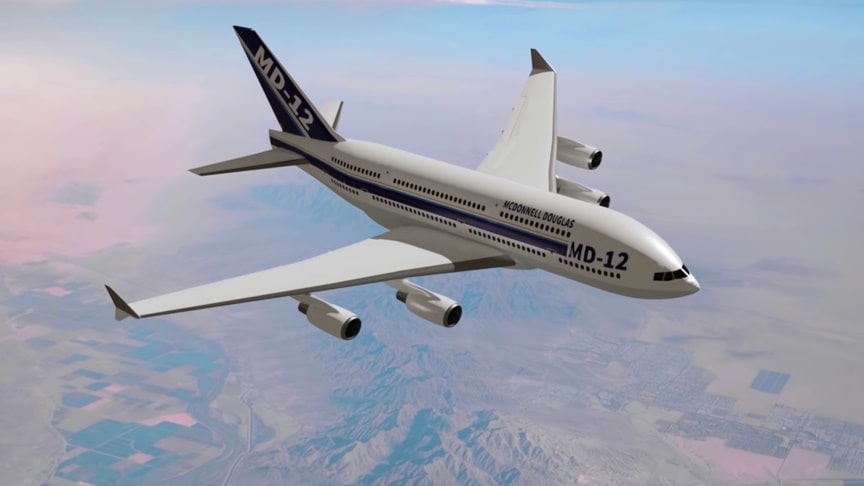 source/image: Found And Explained
Splitting the cockpit above the passenger level on the MD-11 design allows for a cargo door for future freighter versions and allowing panoramic views for a first class cabin, much like the Boeing 747. The length of the main MD-12 was 208 ft (63.4 m) with a wingspan of 213 ft (64.9 m).
The plane would have been able to carry 430 passengers in a typical 3-class layout, or if all one class High-capacity layout it could carry 511 passengers. McDonnell Douglas claimed that a 3,000 nautical mile flight the MD-12 would burn 1% less fuel per seat than a 747-400, or 12% less fuel per seat if in a high-capacity configuration.
Advertisement
It would have a range of 8020 nautical miles, although the high capacity layout version was only rated for 7,170 nmi (9,200 mi, 14,825 km), which shows that even with four engines the design didn't have a lot of power and still made comprises. McDonnell Douglas envisioned that this aircraft would be used for trans-Atlantic travel between London and North America, as well as ply a trade in South East Asia with its high populations. Seeing the failure of McDonnell Douglas with the MD-12 only a year earlier, Boeing decided to scrap the NLA and instead work on a redesign of the 747 that would become the Boeing 747-8.