In this video from The SEMA Show 2022 held in Las Vegas NV, I have this 2023 GMC Jimmy. This is not a Factory Production Truck, it's created by converting a 2023 GMC Sierra or a 2023 Chevrolet Silverado Pickup into what You see here. These trucks are just like the old school GMC Jimmy and Chevrolet Blazer back in the day.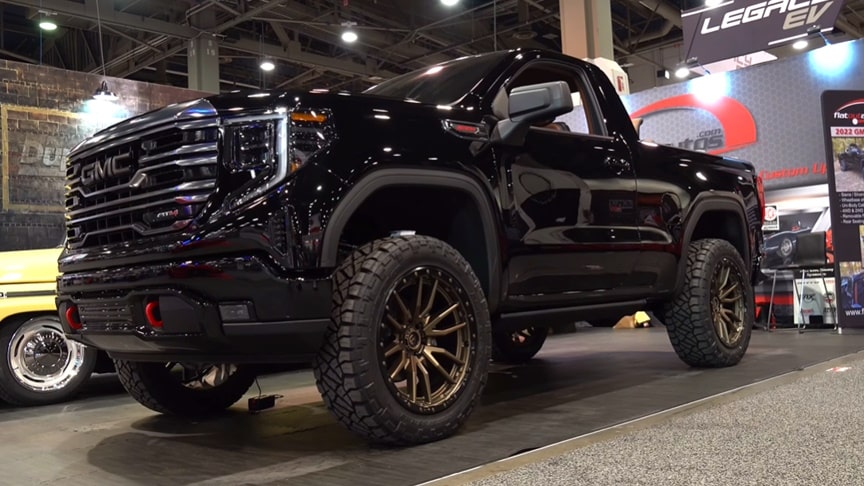 source/image: ScottieDTV
They have rear seating that looks like it was built by General Motors and had always been there.The back half of the roof is removeable like back in the day.I always thought that was a cool feature of the Old School GMC Jimmy and Chevrolet Blazer!
Since they are a conversion they are available in any color that a 2023 GMC Sierra and 2023 Chevrolet Silverado is available in.The interiors are the same.The front half of this 2023 GMC Jimmy is still stock donor trucks.Doors back is all custom. They are also available in two wheel drive and 4wd.
Advertisement
Nothing changes under the hood so what it had from the factory is what it will have now.Chevrolet introduced "The New Chevrolet Blazer" and a large portion of Chevrolet Blazer fans think it was a miss.I'm thinking this 2023 GMC Jimmy from The SEMA Show 2022 held in Las Vegas NV is more of what they were looking for.I dig it.