The EarthRoamer LTi is designed from the ground up to be the ultimate adventure vehicle. Every LTi is built on a four-wheel drive Ford F-550 chassis with a quiet, efficient, and powerful 6.7L turbo diesel V8 engine. With a towing capacity of up to 10,000 pounds, you can bring along all of your toys. Wherever you take it, Ford's premium Lariat interior trim package offers comfort and luxury not usually found in a rugged expedition vehicle.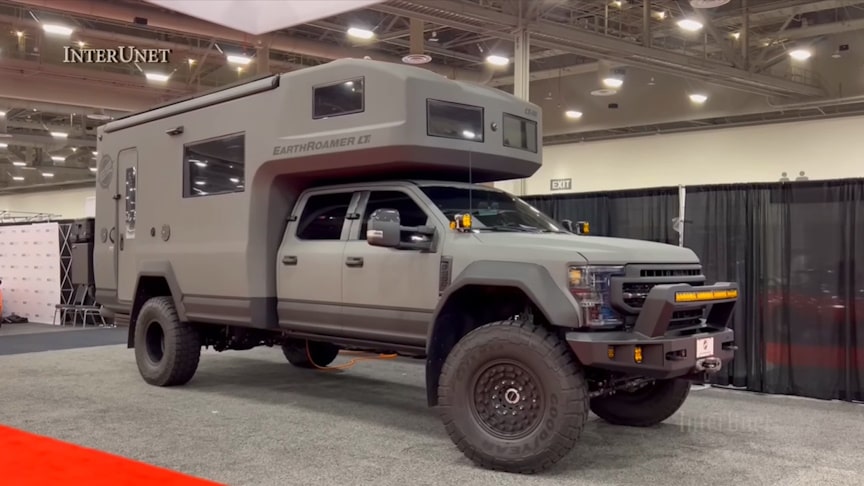 source.image(PrtSc): InterUnetAutomotive
The camper body of the EarthRoamer LTi is the strongest and most capable in the world. This is achieved by using a one-piece molded design with no seams to leak or fail structurally, creating a stronger, safer, and more reliable living space.Fiberglass sandwich construction is used in yacht hull and aircraft manufacturing, but EarthRoamer was the first to use this technology in expedition vehicle manufacturing.Watch the video from InterUnetAutomotive:
In addition to improved aesthetics, aerodynamics and thermal insulation, our one-piece bodies require no metal support structure which could lead to reduced insulation.Our intelligently designed interior offers generous space to relax, play games, work, watch movies – or whatever else you like to do in your leisure time. Our over-cab bunk makes a great lounge area for reading, watching TV or listening to music, while the main cabin space provides seating for 2-6 based on your floor plan.
Advertisement
Enjoy a king size memory foam bed in the bunk area, and options for comfy single beds or a queen down below. After a long day of adventure, the overcab bed is always ready and out of the way, with no cumbersome pop ups or slide outs to setup. The EarthRoamer LTi sleeps 2-4 people based on your floor plan.Your EarthRoamer LTi provides everything necessary to prepare and enjoy meals inside the camper. While we frequently barbecue outside, it's nice to know you have a comfortable and capable kitchen and dining area if the weather turns bad or the bugs get too big. Modern appliances like a stainless refrigerator/freezer, induction cooktop and convection microwave are standard.via/read more: earthroamer