An electric pedal vehicle for everyday transport and any weather conditions. The Cabriovelo is a convertible pedal-vehicle, provided with a foldable roof. It comes with a complete lighting sytem and an electric assistance. The large trunk meets any loading purpose and a child-seat can be mounted in the rear side.Cabriovelo was designed to be pedal-powered, but it also has an electric motor to assist with hills and other inclines.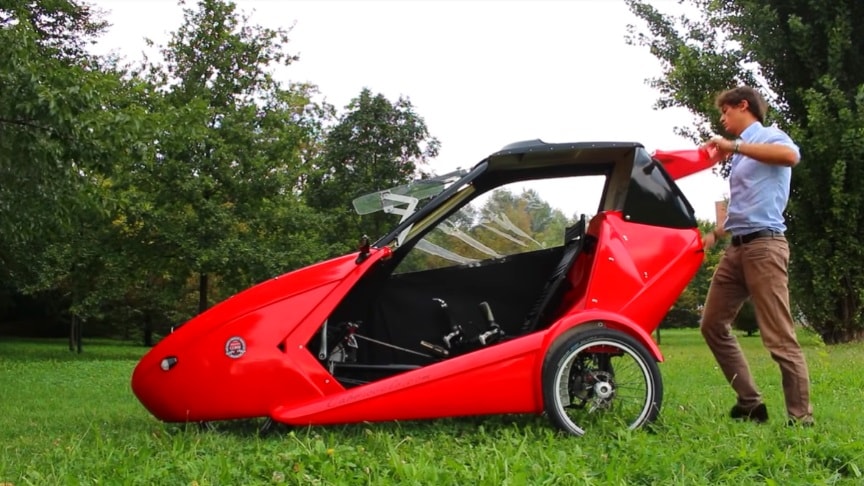 source/image: Velobenaco – Cabriovelo
It works just like a bike, and can even be locked up like a bike. It also has a trunk where you can stow your shopping or groceries, or even a small child if you're planning a day out in the neighborhood.See how easy is to switch from a completely closed roof to the fashion cabrio configuration. It only takes few seconds per side!!
It features easy access and regress capabilities, an electric assistance, a large trunk and comfortable riding position. It comes with a removable child seat in the rear side. It is very practical and versatile but also good looking.
Advertisement
Cabriovelo is 2,8 meters long and 1,3 meters wide. It only measures 0,75 meters in height and weighs 45 kilograms. It is easy to access, and has a large trunk (with a volume of 200 liters). There is a 250-watt hub motor in the front wheel, powered by a 36V 11-Ah lithium battery pack, so you can either use your feet only or get some help from the electric assistance.
The Cabriovelo is jam-packed with features; it has a headlight, blinking turn signals, and even a horn. It's an all-weather bike that works great for commuting, shopping, or a leisurely ride in the countryside. And just like a sports car, it costs a pretty penny but is worth every single one.