Well what started as a 1936 Ford Truck Cab and Fenders, the rest is all one off custom hand formed sheet metal. This 1936 Ford Cab Over "Cab Over Evolved" from the 2018 SEMA Show is crazy cool0And crazy custom. Inspired by a trip to the store and a Hot Wheels in 2004 the back story is as cool as the project.Where do I start.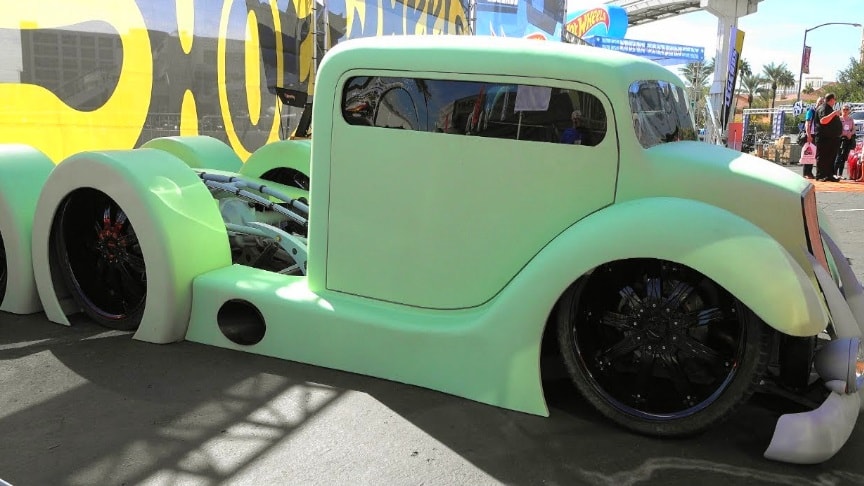 source/image: ScottieDTV
The one off hand formed custom body work just flows.It still has that vintage truck look to it.But with a way modern spin???22's on the front and 26's on the back…Wheels are always a personal choice but the custom wheels this 1936 Ford Cab Over wears work well for Me….They work well with the aggressive look it has about it.
As You will see the interior is still a work in progress…This custom truck from the 2018 SEMA Show deserves something fitting and cool in there…There is a 5.9 Cummins hidden under there somewhere although I didn't see it….One of the coolest features on the truck that has a ton of cool custom features is the rear suspension….It's custom…
Advertisement
And it's cool…You will just have to see it..No way I can put into words…I love when someone just follows their dreams and doesn't let anything get in their way…And then shares it with the world…This truck has a lot of time and money in it and the owner/builder just let's us look at it for free…What a great country We live in!!..One very cool custom Ford Truck from the 2018 SEMA Show…I'm a fan and I am sure You will be to.//ScottieDTV