The Atlas Touring Coach is our most luxurious touring coach to date. It's a Class B RV built on the legendary Mercedes-Benz® Sprinter van chassis and inspired by our trailblazing Airstream Interstate series. In fact, with its power slide-out, richly appointed features and finishes, and understated automotive styling from grill to bumper, we affectionately call it a Class B+. A new standard has arrived for those who believe a well-traveled life begins with the best.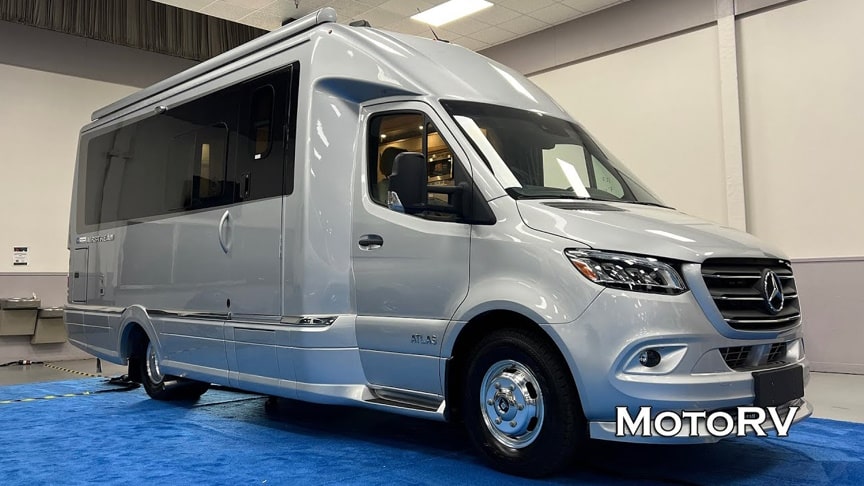 Atlas is designed to give you plenty of room to start with, and then expand via the power slide-out to make things even roomier and more luxurious.The Atlas is the first Airstream motorhome to include a power slide-out, and we've taken care to do it right. On the road, the slide-out is retracted and fits seamlessly with the luxury automotive body style.
And at the campground, it extends with the touch of a button on the Multiplex control panel. Once extended, you have more room to relax on the couch or pull down the Murphy bed to turn in for the night.Our partnership with Mercedes-Benz has been a natural fit right from the beginning. The powerful Mercedes-Benz® 3.0L V6 turbo diesel engine makes the Atlas driving experience so enjoyable – with powerful getup balanced with impressive fuel economy.
Advertisement
Mercedes-Benz's reputation for the best safety and convenience mirrors our own standards for lasting quality and streamlined design, and they come together beautifully in the Atlas. We start with the foundation of a Mercedes-Benz Sprinter van chassis and include more than 50 best-in-class features as standard, not upgrades. From the front grill to the back bumper and in between, the Atlas is top-of-the-line, mile after mile.