Microhaus is a perfectly engineered autonomous product, designed to surpass all existing codes and requirements in the USA. It's built with extraordinary energy efficiency, hurricane resistance, seismic safety, extreme snow and wind load capacities, fire codes, UV and overheating protection, antibacterial and mold protection, and much more.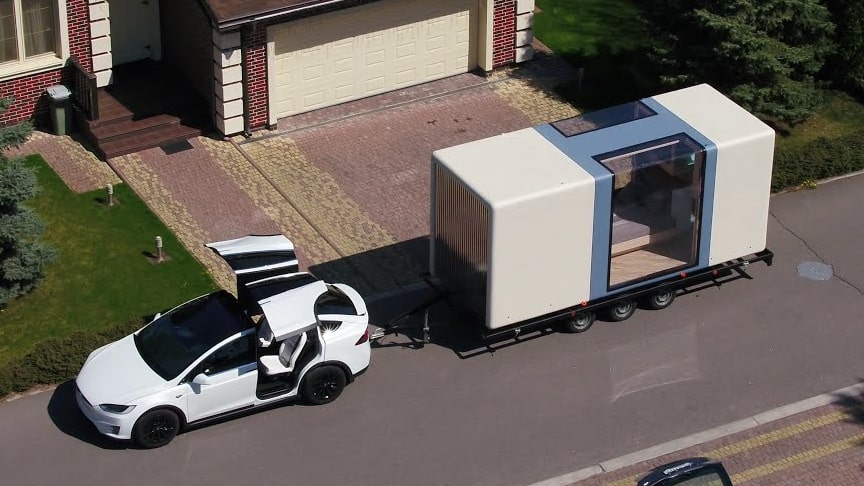 Microhaus structures are easily portable and transportable, allowing you to change locations at your convenience, explore new places, and enjoy different views from your windows. Moving these structures is a simple process, and we can help you deliver your unit to any location on the planet, including mountains, islands, sandy beaches, or even your backyard.
Microhaus homes are delivered fully furnished and equipped. HVAC, ventilation, TV, hi-end music, linens, and even wine glasses are included! Our main criterion is choosing the highest quality materials.
Advertisement
Microhaus interiors are professionally designed by aerospace and automotive designers, super durable, and beautiful. Designed in Europe and crafted in the USA, Microhaus is probably the most beautiful compact living space in the world.
Although the fibreglass exterior looks futuristic, Haus.me have lined the Microhaus in wood and fabric, and installed strategic spotlights that add a warm glow once the sun goes down. Described as simple as an RV, cool as a yacht," Microhaus is perfectly suited for travel, for a single individual or a family of two. It weighs just 4,037 kg, which means it's easily transportable on a trailer.Ten hours of backup power, a large water tank and voice control mean guests should be kept happy.Haus.me offers a standard and pro version – which includes additional air purification, among other features – starting at $50,000.