Alfa Romeo 4C Spider review! Today I'm reviewing the Alfa Romeo 4C Spider, which is a baby supercar. I'm going to show you all the many quirks of the 4C Spider, and then I'll drive the 4C Spider and show you what it's like behind the wheel and review the Alfa 4C driving experience!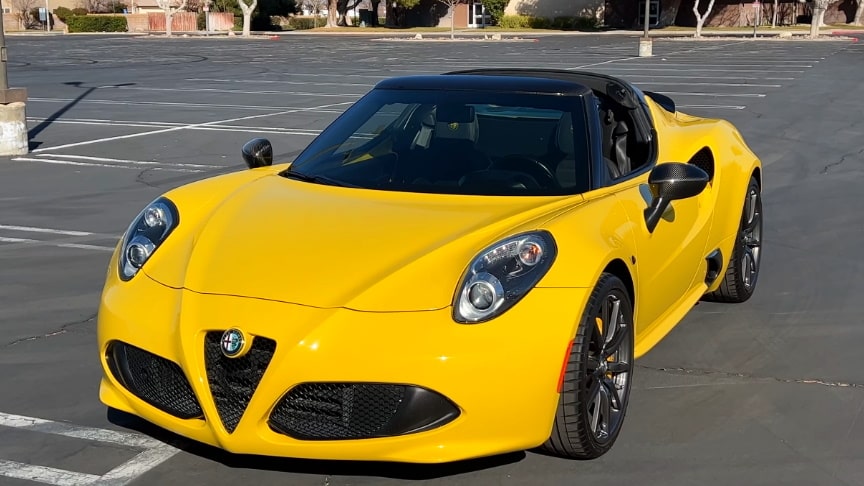 source/image(PrtSc): Doug DeMuro
The Alfa Romeo 4C is a mid-engined sports car produced by Italian car manufacturer Alfa Romeo. Unveiled at the 2013 Geneva Motor Show, the 4C was initially only available as a coupé, with a spider body style coming a few years later in 2015. The name 4C refers to the four-cylinder engine.
The 4C uses a new all-aluminium 1.75 L inline 4 cylinder turbocharged engine producing 240 metric horsepower (177 kW) at 6000 rpm. The engine has been designed for minimum weight.The 4C is equipped with a six speed Alfa TCT Dual Dry Clutch Transmission, and can be operated via gearshift paddles on the steering wheel.
Advertisement
The chassis is composed of a central carbon fiber tub, with aluminium subframes front and rear.The entire carbon-fiber monocoque chassis ("tub") of the car weighs 143 pounds (65 kg). Front and rear aluminum subframes combine with the tub, roof reinforcements and engine mounting to comprise the 4C chassis giving the vehicle a total chassis weight of 107 kg and a total vehicle curb weight of just 1,118 kg./Doug DeMuro