The Alfa Romeo 33 Stradale is a mid-engined sports car built by Italian car manufacturer Alfa Romeo. 18 examples were produced between 1967 and 1969. "Stradale" (Italian for "road-going") is a term often used by Italian car manufacturers to indicate a street-legal version of a racing car; indeed the 33 Stradale was derived from the Tipo 33 sports prototype.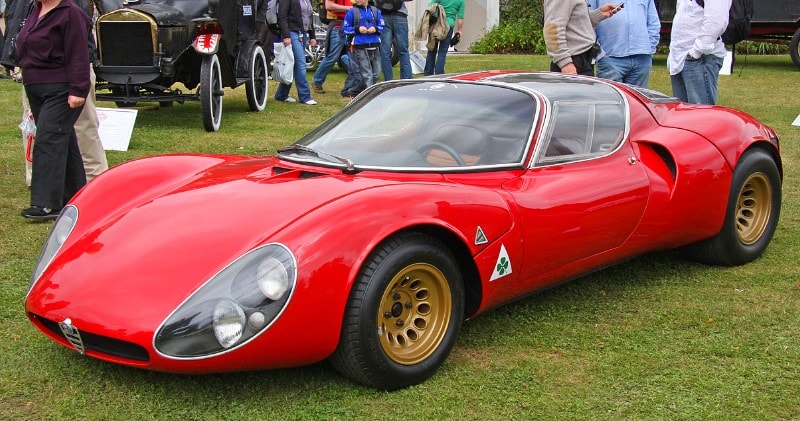 source/image: wikipedia
The 33 Stradale is the first production vehicle to feature dihedral doors, also known as butterfly doors.[6] The 33 Stradale also features windows which seamlessly curve upward into the 'roof' of the vehicle. The car has aluminium body on aluminium tubular chassis.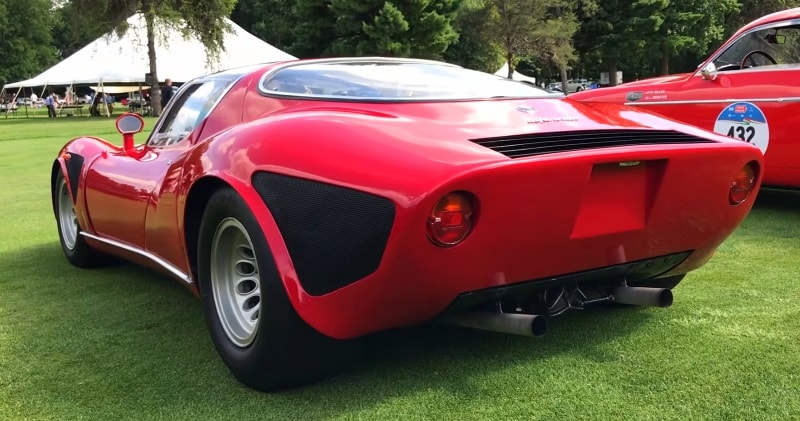 source/image: John Keep
As a result of being built by hand, each model differs from the others for some details. For example, early models had twin headlights, replaced in the last ones by single lights.
Advertisement
Its engine was a 2.0-liter, flat-plane V8 with SPICA fuel-injection, dual-overhead cams, and two spark plugs per cylinder.According to the Alfa Romeo museum, it made 230 hp at a ridiculous 8800 rpm, and sent its power to the rear wheels via a six-speed transaxle.
The car takes 5.5 seconds to reach 60 mph (96.6 km/h) from a standing start and has a top speed of 260 km/h (160 mph).In 1968 it was the fastest commercially available car in the standing kilometer with time of 24.0 seconds measured by German Auto, Motor und Sport.