The all-electric Airstream eStream Concept Travel Trailer incorporates a suite of innovative technology while laying the groundwork for improvements across our future product lineup. A one-off concept travel trailer built in partnership between Airstream and our parent company THOR Industries and its family of companies, the eStream is sparking conversations about the future of travel.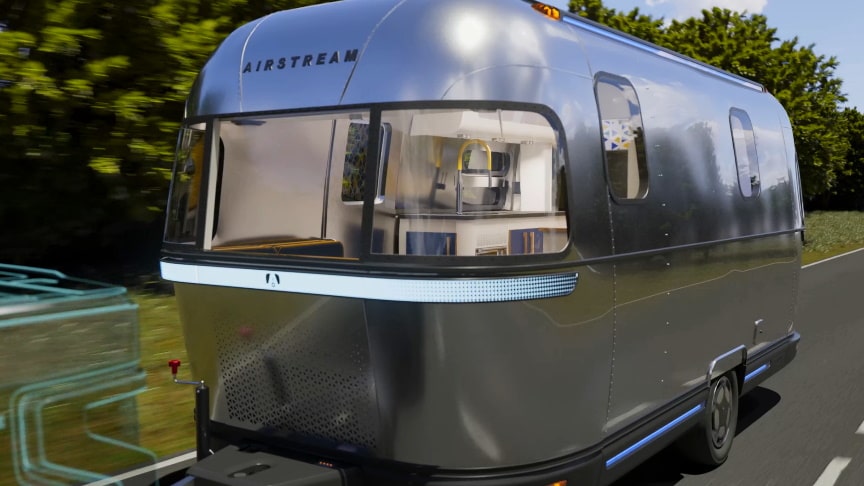 From advanced aerodynamics to a state-of-the-art chassis and a new power system with advanced batteries, motors, and control systems, it's the most technologically advanced travel trailer ever produced by Airstream or its THOR partners.A travel trailer at its heart is a home on wheels – a place to stay comfortably while experiencing the best of travel freedom.
The eStream delivers on that promise, with technology and systems aimed at heading further afield while bringing along the comforts of home. High voltage batteries, an expansive solar rooftop, and advanced electronic systems provide an on-grid experience even when camping far from shore power. Connect to an integrated Wi-Fi hotspot, fire up the all-electric appliances, and leave the messy, loud generators at home.
Advertisement
With a full powertrain integrated into the chassis, the eStream works hand in hand with the tow vehicle to optimize the towing experience. A drive axle with dual motors works actively to extend towing range, while advanced sensors and stability controls means no need for a weight distribution hitch. The same drive axle motors that provide extended range are also capable of moving the eStream at low speeds.