Check out this amazing marine design that combines boat with a coach for the Giljam family.The video below will give you a complete tour of this incredible amphibious RV, the prototype work of designers John and Julie Giljam who now custom-build amphibious RVs for others.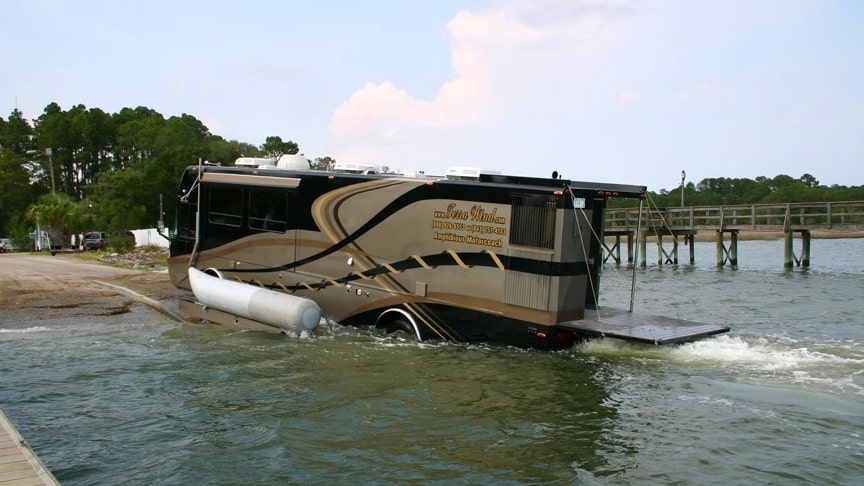 They first created the Hydra Terra, with a 49-passenger capacity and, in 2002, started working on what would become, two years later, the Terra Wind. This amphibious RV is meant for smooth water cruising only. No surf or open ocean. Two- to three-foot waves are the max it can handle.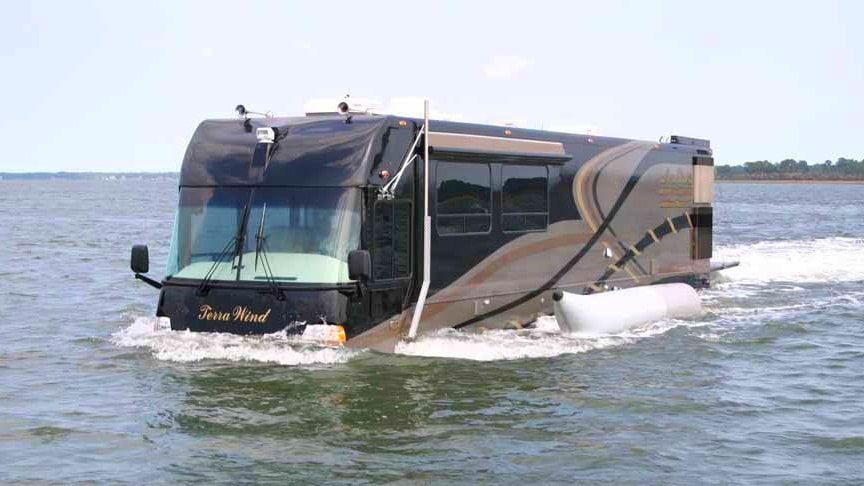 Inside, the coach has the look and feel of a luxury yacht with every convenience and luxury you can imagine. There are residential-sized appliances, two slide-out rooms, marble countertops and teak wood cabinets.
Advertisement
The RV is powered by a Caterpillar 3126E turbocharged 330-hp diesel engine with a power takeoff unit: you have automatic transmission for driving and a marine gearbox for operating it on water, getting the propellers in motion. The padded leather dash resembles an aircraft's cockpit with its many instrument gauges amd system controls.
In the middle of the RV is the bathroom, with an electronic toilet and a bathtub-jacuzzi combination.The master bedroom is at the rear, with a queen-size bed with custom mattress, mirrored ceiling and the second slide-out.The Terra Wind can be custom designed to fit virtually any decor with floor plans, entertainment systems, electronics, cabinetry, floor coverings, furniture, paint, and graphics that can be tailored to suit individual needs.