HOWIN L6-210 is designed and developed on the basis of the iconic engine F300. Howin team has spent a year or so developing, designing, and testing this straight-six I6 engine. They also make some major upgrades too. For example, while retaining the appearance elements of the classic I6 engine, Howin model engineers adopt the Howin-made distributor ignition, upgraded independent lubrication system, and brand-new intake system. The engine in this viedeo is HOWIN L6-210 21cc Straight-six Four-Stroke Gasoline Engine.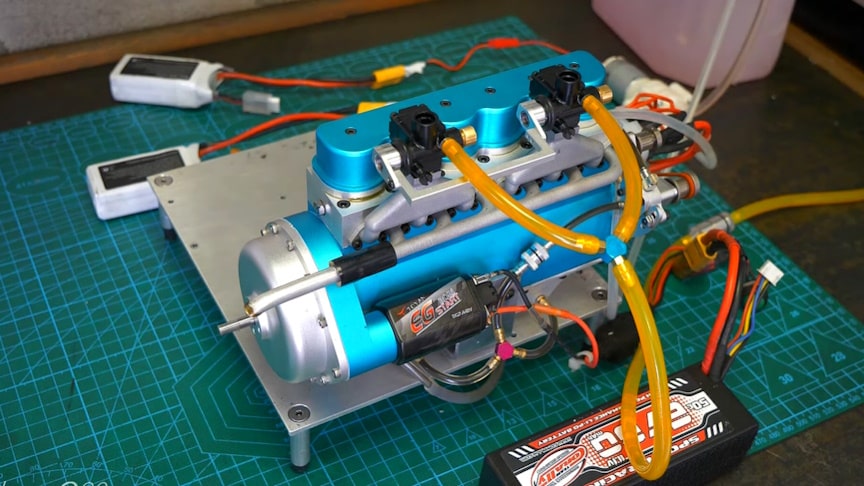 source.image: JohnnyQ90
And they also make it water cooling, and gas-powered, which will be more friendly to users and players.The 1/8 mini I6 engine is authentic with a classic blue and silver color scheme that is never out of fashion, as closely as to the real engine. Thrill your curious motorheads with these metal gas-powered mini-engine kits. Just get to build a realistic 6-cylinder motor, power it up & watch it run – with moving pistons, spinning fans, smooth engine sound & more.
Taking the long stroke as the engine design blueprint, it effectively provides higher torque. And the customized flexible oil seal ensures excellent sealing performance in high-speed operation.Designed with a cooling water groove inside the cylinder block and water pump for circulating power, the model is able to work in conjunction with a cooling fan later to strengthen the cooling performance and extend the working time.
Advertisement
Features a valve overhead and the camshaft structure on the bottom. Push rod control valve switch makes this more stable.Built with a cross crankshaft structure, five-section full support, bearing at both ends and middle copper bearing bush, the engine boasts more smooth operation, more sensitive acceleration response and high efficiency.