Autech was founded in 1986 as a subsidiary of Nissan.On 27 May 1987 Autech and the Italian company Zagato signed an agreement to jointly produce a luxury sports car aimed mainly at the Japanese market. Autech was responsible for the engine and chassis, and Zagato of the interior and exterior design.The new car used the platform of the Nissan Leopard and was called Autech Zagato Stelvio AZ1.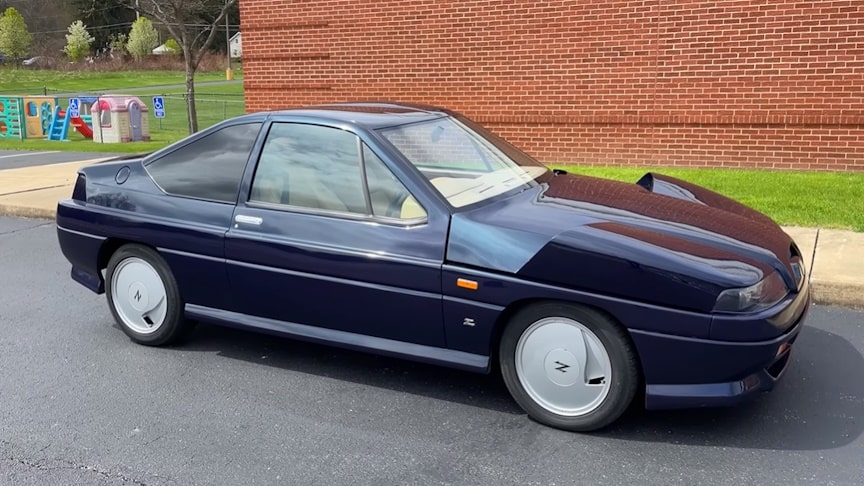 source.image: Doug DeMuro
The Autech Zagato Stelvio AZ1 is a crazy, bizarre 1980s car — and today I'm reviewing it. I'm going to show you all the quirks and features of the bizarre AZ1, and I'll show you all around the Autech Stelvio Zagato AZ1. I'm also going to review the driving experience of the AZ1 and show you what it's like behind the wheel.
The car is fitted with the Autech enhanced Nissan VG30DET 3 litre V6 with double overhead cams per bank, 24 valves, with a T3 4-bolt Garrett turbocharger and a total power output claimed at 280 bhp.The engine was backed by a four-speed automatic gearbox and disc brakes were at all four corners.
Advertisement
On the exterior, its most prominent feature is the strange front gills. Upon first glance, it's actually hard to tell what their purpose even is. But looking a little closer, you see that they are, in fact, the wing mirrors. The vehicle's steering system is power assisted rack and pinion type. The front suspension includes anti-roll bar, independent, MacPherson strut and the rear suspension – anti-roll bar, coil springs, independent, semi-trailing arm.