The AutoGyro Calidus is a German autogyro, designed and produced by AutoGyro GmbH of Hildesheim. The aircraft is supplied as a complete ready-to-fly-aircraft.Flying and driving on the road at the same time is the age-old dream of every traveler.This airplane is legal to drive on the road nowRefuel at the pump and take off again above the traffic.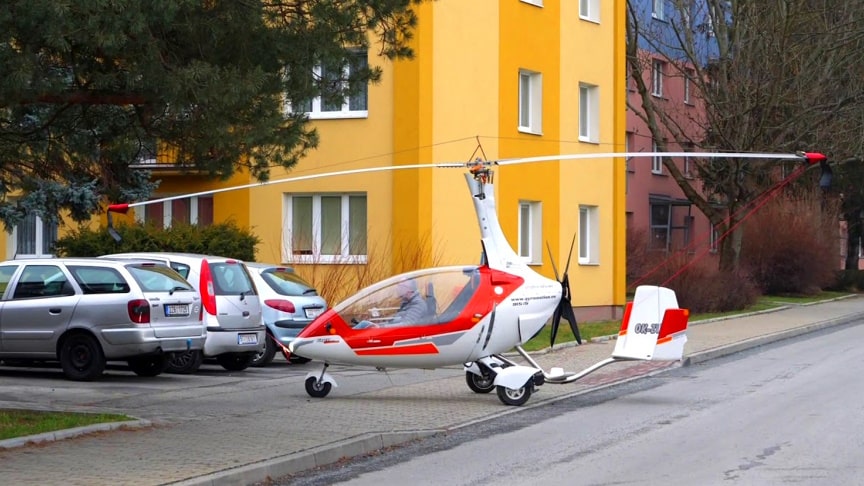 source/image: Vírník Autogyro AGN
For easy and comfortable operation and simple maintenance of the electric motor system, you will find the electric motor placed in the construction of the wheel. The technology is safely stored in the housing of the running wheel fender. GyroMotion is a homologated technology for gyroplane driving on the road due to traffic rules up to maximum speed 40 km/h.The two-seater Calidus has been very popular since its launch in 2009.
The closed cabin provides passengers with maximum comfort , even in colder weather. It will protect you even when flying in more extreme conditions .Proven Rotax engines , a self-supporting structure made of glass and carbon fibers (GFK/CFK technology) and a replaceable hood predestinate Calidus for comfortable long-distance flights.Thanks to low consumption , you can fly wherever you want.
Advertisement
The Cladius is powered by four-cylinder, air and liquid-cooled, four-stroke, dual-ignition 100 hp (75 kW) Rotax 912 engine or turbocharged 115 hp (86 kW) Rotax 914 engine.The aircraft fuselage is made from composites and is a faired teardrop shape to ensure smooth airflow over the variable pitch pusher propeller. Its 8.4 m (27.6 ft) diameter rotor has a chord of 20 cm (7.9 in). The aircraft has an empty weight of 265 kg (584 lb) and a gross weight of 450 kg (990 lb), giving a useful load of 185 kg (408 lb).