Dubbed "the drunk house" by the home's framers and "The Hive" by others, the backyard unit has just two vertical walls and four walls that slant upward to add space where needed.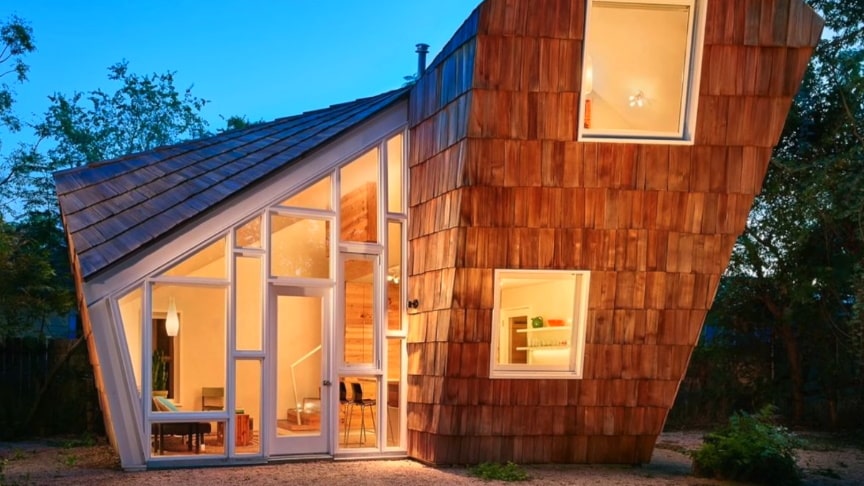 source/image(PrtSc): Kirsten Dirksen
Limited by the city of Austin (Texas) to building on 45% of a lot, architect Nicole Blair leaned the walls out to gain space: the base covers the maximum 320 square feet, but the walls continue up and out to create a total of 565 square feet of living space.
In the kitchen, the slope adds countertop square footage. In the living room, the slant turns a space big enough for just a couch and one-foot-wide coffee table into a light and airy room. Upstairs the crooked bedroom barely fits a queen bed but unfolds the views.
Advertisement
By acting as both architect and contractor, Blair was able to adapt the home as it was built and to keep costs down by using salvaged materials as they became available. The entire exterior, and roof, of the home, are clad in recycled cedar shingles. Using a reclaimed longleaf pine sheathing, Blair transformed IKEA kitchen and bathroom cabinets into a custom experience. By keeping an eye on every detail of the build down to the exposed copper bathroom fixtures, she was able to build the home from foundation up for $160k./Kirsten Dirksen