The Bell 206 is popular for a variety uses, but is a less common option among touring helicopter companies due to smaller windows and a relatively noisier ride. Most models seat between 4 and 6 passengers in bench-style seating.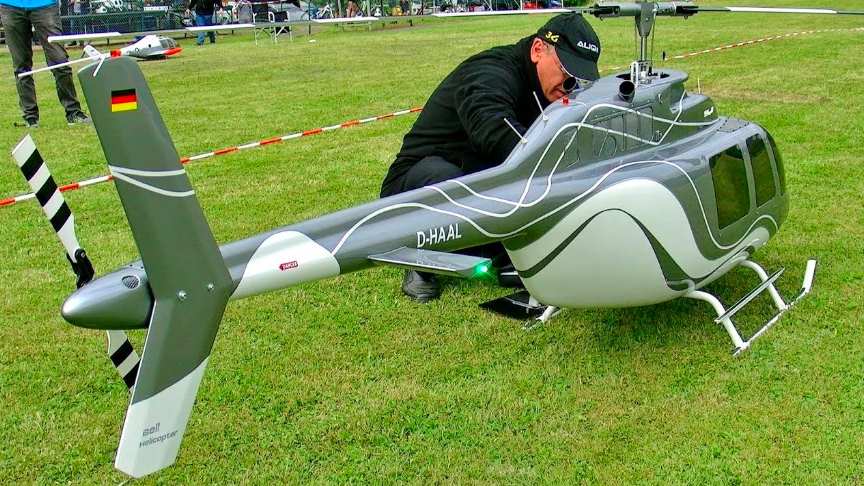 source/image(PrtSc): RC MEDIA WORLD
The Bell 206 is a family of two-bladed, single- and twin-engined helicopters, manufactured by Bell Helicopter.This RC Bell-206 really impresses with the highly detailed and accurately scaled down profile.//RC MEDIA WORLD
The model RC Bell-206 Jetranger helicopter has a rotor diameter of 3,37 m and is powered by an electric Electro / Pyro 1000 engine with a Take-off weight: app. 24,5 Kg.The pilot of this helicopter is Andy Fischer.
Advertisement
This giant RC Model Bell-206 is a premium scale kit that offers unparalleled detail.From tip-to-tail the Bell-206 Jetranger body kit displays an accuracy of detail to the real aircraft not normally seen in the RC helicopter hobby.
Semi Scale Model: Bell 206 Jetranger XXXL
Engine: Electro / Pyro 1000
Rotor diameter: 3,37 m
Length: 3,10 m
Take-off weight: 24,5 Kg
Scale: 3/3,27
Pilot: Andy Fischer
Event: 16. Pöting Turbine Meeting in Kreuztal Littfeld Germany in June 2017