The AS355 Ecureuil 2 is a twin-engine variant, marketed in North America as the TwinStar. The Eurocopter EC130 is a derivative of the AS350 airframe and is considered to be part of the Écureuil single-engine family.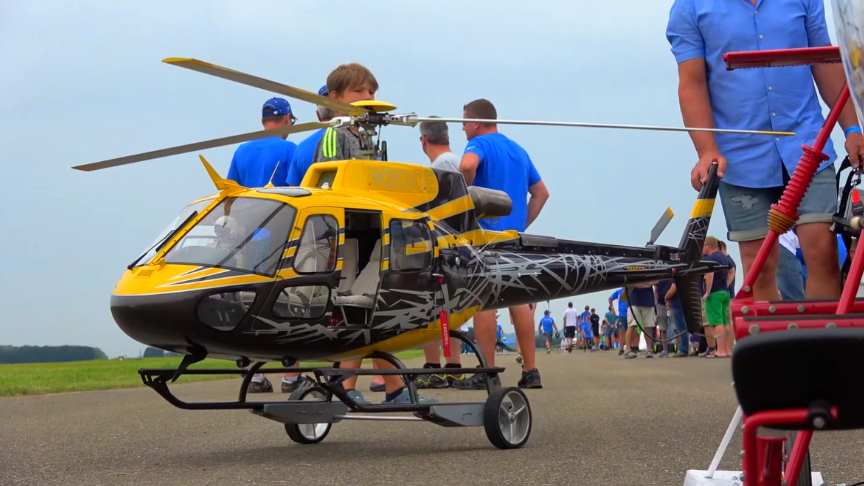 source/image(PrtSc): DIGITAL RC
This rc Eurocopter AS350 has a glass fiber scale fuselage in premium quality and finish,Including magnetic cabin lock system, for quick access. Transparent front window, side windows open for heat dissipation. The pilot of this helicopter in this video is Michael Dressendörfer.
The helicopter has a rotor diameter of 2.40m, a length of 2,50 m and is powered by an electric Scorpion 50/35 5kW an 12s 2p LiPomotor motor. The take-off weight of the helicopter is 17,5.Kg.The highly efficient brushless main motor provides plenty of power and torque, while the tail motor ensures that the tail holds rock solid.
Advertisement
All of this wrapped up in a beautiful scale fuselage which is literally dripping with scale detail.Electric motors are quiet, low in vibration, without exhaust gases and residual thrust. The blade slap noise sound of the rotor blades is more noticeable than with other types of propulsion and the result is a true-to-life impression in flight.
Model: AS-350 Ecureuil
Engine: Electro
Rotor diameter: 2,40 m
Take-off weight: 17,5 Kg
Pilot: Michael Dressendörfer