The North American T-2 Buckeye was the United States Navy's intermediate training aircraft.The T-2 served the Navy as a two-seat intermediate carrier-capable jet trainer from 1959 until 2008. Originally powered by a single engine, the Buckeye evolved into a twin-engine aircraft.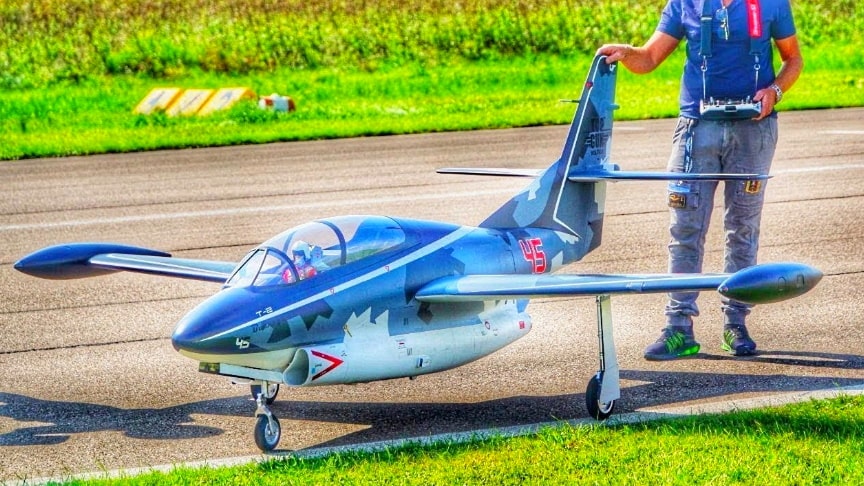 source/image(PrtSc): DIGITAL RC
This perfect remote controlled T-2 Buckeye has a wingspan of 2.90m a lenght of 2.95m and is powered by two 2x Jetmunts 100 XBL turbine engines with a take off weight app 24.8kg. The pilot of this airplane on this video from DIGITAL RC is Dimitri Bouet.
The model airplane features Aluminum tube plug-in for wings spars,Dual ball bearing for elevator,Carbon fiber for vertical fins shaft, vertical stabiliser and control surface made of GRP and CRP vacuum sandwich material,live hinging" with precision gap sealing,very scale surface with details and full rivets.
Advertisement
The airplane also has a has fine engraved surface features, well detailed cockpit, intake trunking and exhaust pipes with turbine faces, separate control surfaces and flaps, boxed in wheel wells, wingtip tanks optional open or closed vacuform canopy.
Model: T-2C Buckeye from Paritech
Wingspan: 2,90 m
Lenght: 2,95 m
Weight: 24,8 kg
Telemetry/RX: Powerbox Mercury / Graupner
Turbine: 2x Jetmunts 100 XBL
Fahrwerk Mechanik von Electron
Fuel tanks from CMJets
Pilot: Dimitri Bouet
Event: Jet Power 2018, Donauwörth, Germany