Adventurous globetrotters will find a combination of fantastic off-road capabilities and high levels of comfort in the bimobil EX 412.The Iveco Daily 4×4 with permanent all-wheel drive is recognised as one of the best off-road vehicles in its class. The vehicle is equipped with 16 forward gears thanks to the selectable low ratios with a reduction of 1:2. With the right tyres, it will even climb surprisingly steep gradients.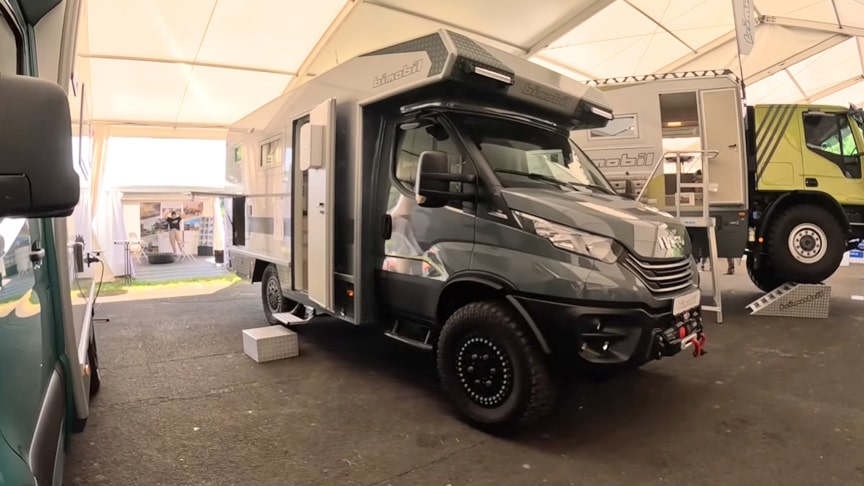 source.image: JARO SPEED
The enormous amount of suspension travel permits extreme axle articulation without lifting a wheel and almost makes driving on corrugated tracks a pleasure. Thanks to the three standard differential locks (front, centre and rear), you will still keep moving if a wheel should leave the ground, equally in mud, sand, snow or gravel, or if you need extra traction when salvaging another vehicle. Watch the video from JARO SPEED:
The robust bimobil cabin with its welded Aluminium frame, aluminium outer skin, and solid interior furnishings, is designed to cope with the most technical terrain and will even withstand the extremest situations an Iveco Daily 4×4 can throw at it so that you can reliably rack up countless kilometres on a world trip.
Advertisement
Despite its compact exterior dimensions the EX 412 offers a surprisingly spacious interior and meets the expectations of the most discerning globetrotter: fixed double bed,separate shower, spacious kitchen, plenty of storage, and comfortable seating for yourselves and your guests.Bimobil EX 412 with panorama window,Iveco 70S HA8WX,70-180 Hi-Matic / 132kw / 180hp,L:672 / W:228 / H:310 / weight: 5060kg (7.000kg total weight),basic price of exhibited,vehicle on this exhibition was: 285.950.-EUR.total price of exhibited vehicle in this configuration on this exhibition was: 405.621.-EUR.