Anyone who does not want to do without e-bikes even on longer journeys will find the optimal layout in the LHX 428.The floor plan combines well-known elements from other bimobil floor plans with the wishes and experiences of our customers: the lengthwise sleeper beds in the alcove are supplemented by a fixed rear bed, so that up to five people can comfortably sleep – with conversion of the seating group.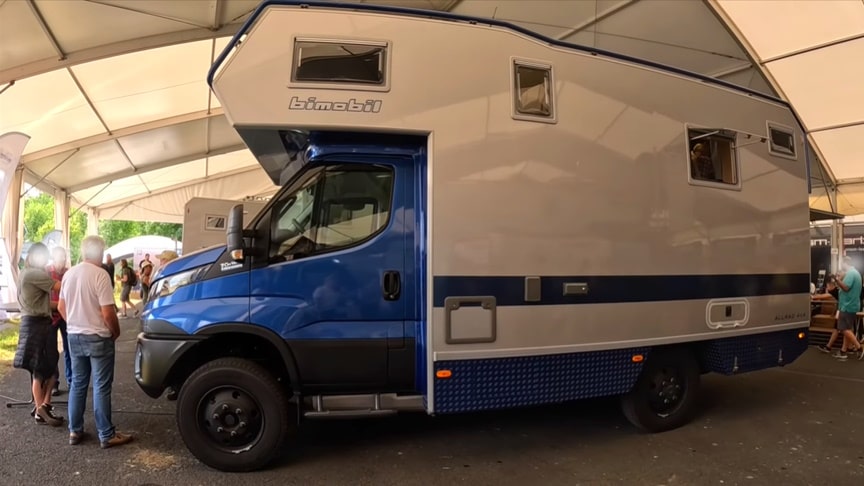 Up to three passengers can ride in the living cabin and with the optional large side flap, the seating group can be converted into an outdoor seat. The kitchen is spacious and can be supplemented with an oven; There is a separate shower in the wet area.
Many hanging storage boxes, a large wardrobe, drawers and storage compartments complement the storage space of the double floor inside. The large rear garage holds, among other things, two large e-bikes – with the optional lowerable e-bike carrier, these do not have to be lifted in. The appropriate electrical system for charging the bikes also finds its designated place in the rear garage.
Advertisement
The Sprinter all-wheel drive reliably brings the mobile home to the loveliest corners, which can then be explored with the e-bikes safely stowed inside. With standard equipment, up to one ton can be loaded with a total permissible weight of five tons.In addition to three permanent sleeping places, the LHX 428 offers an exceptionally large rear garage – designed for two e-bikes – and many storage options.
Bimobil LHX 428
Iveco Daily 70-180 (70S18)
132kw / 180hp / Allrad 4×4
L:673 / W:238 / H:348 / weight: 5.350kg (total weight 7.000kg)