The Lockheed SR-71 Blackbird Mach 3-strategic reconnaissance aircraft remained the world's fastest and highest-flying operational aircraft throughout its nearly 24-year career. The Blackbird's design, speed, stealth and mystery continue to inspire fans all over the world.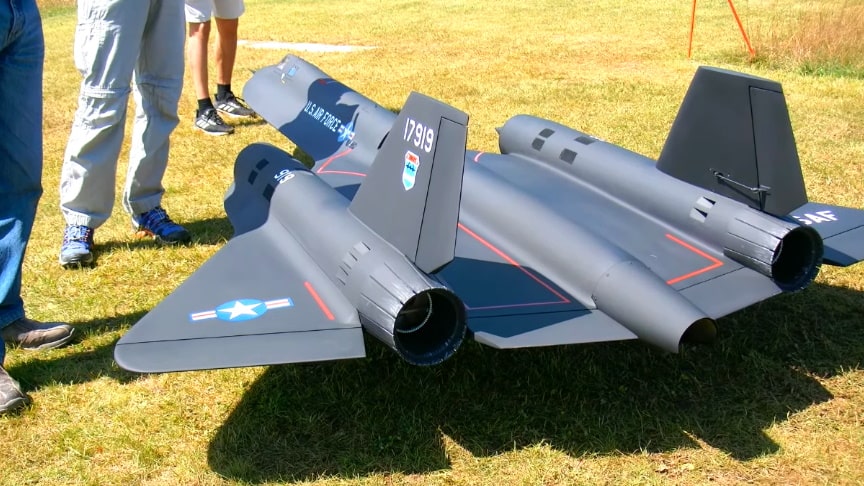 source/image(PrtSc): RC MEDIA WORLD
This is the perfect ready to fly RC jet and is built with a great attention, it comes with 6 channel 2.4ghz 2500+ feet long range remote control with code hopping wide spectrum technology.This rare rc airplane comes with high power twin Frank Turbine professional engines which makes the SR-71 Blackbird more powerful than most rc airplanes.
The builder and the pilot of this airplane is Matthias Blaß, uses a Futaba radio to control his 85-pound SR-71 and it is an impressive 13 feet long. Powered by a pair of JetCat 140-RXi turbines, and he completely scratch built the scale retractable landing gear complete with disc brakes. The amazing spy plane also uses a scale drogue chute to shorten the landing run out after touchdown.
Advertisement
This giant RC Sr-71 model airplane is based on the original on a scale of 1: 7.5 and its overall construction is made of wood.The SR-71 Blackbird has a length of 4.80 meters, a wingspan of 2,20 m and a take-off weight of 36 kg, the tank of the airplane takes 10 Liter of Cerosene. The airplane is also equiped with a retractable undercarriage with wheel brakes and a braking parachute like the original./RC MEDIA WORLD