Trailerable houseboats are a great combination of style and functionality. The Boat-A-Home is a trailerable houseboat, making it a dual purpose RV. While the Boat-A-Home is on the trailer it is just like any other RV trailer.Take it to the lake and now you have an amazing houseboat with all of your goodies inside already ready to go. More info after the break.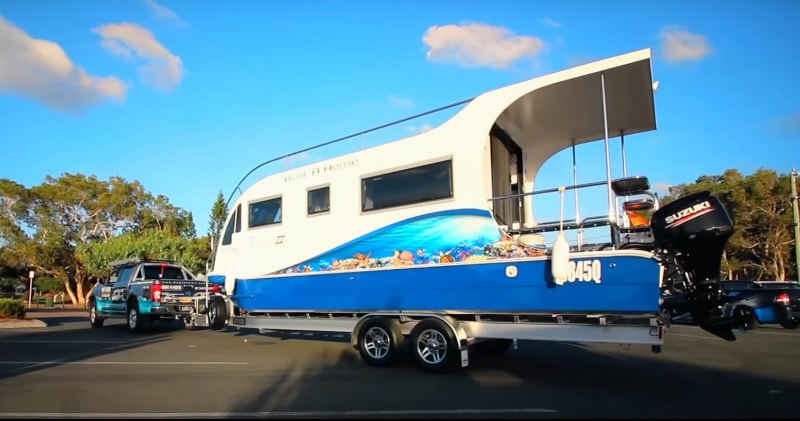 source/image: Boat A Home
This is built from light weight marine composite, with buoyancy foam in the bow, stern and the twin hulls to provide additional strength and positive buoyancy. The exterior finish is very slick. All handrails and the roof access ladder are stainless steel, and a Fiamma wind out awning is fitted.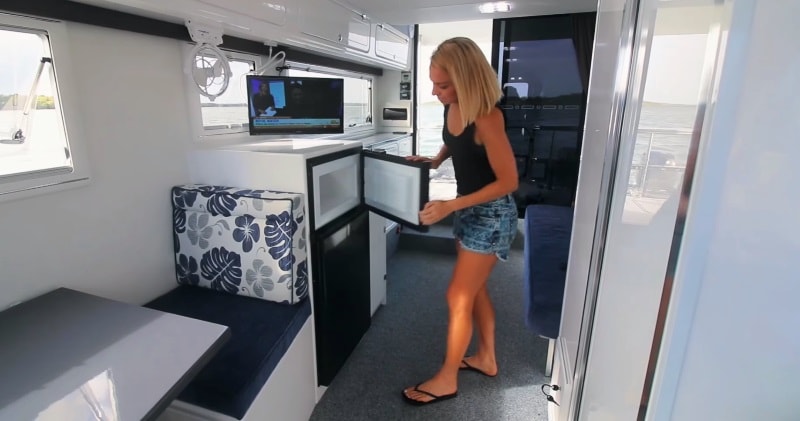 source/image: Boat A Home
Up top is plenty of room for a spot of sunbathing, as well as solar panels, air conditioner and TV antenna. Access to the roof is via a ladder (easy to negotiate) beside the front door on the port side. This is a very open rig, with plenty of windows, all screened and with blinds.
Advertisement
Astern of the kitchen is the bathroom, a roomy module with a cassette toilet, shower and vanity basin all moulded in gleaming fibreglass. Astern of the bathroom is a long lounge that doubles as a fold out double bed. This bed can remain as a lounge, or be left made up. There is plenty of room to walk around the bed if that's your choice.
But the extraordinary advantage of the Escape is its houseboat ability. It's easy to launch, and once on the water it really shines. Pushed along by the big Suzi it will take you anywhere on enclosed waters – lakes, dams, big rivers and the like – for an extended floating free camp. Ideally a small tinny mounted on top of the tow car will allow a bit of fishing.