This BSA M20 it's fitted with a new carburetor and comes with a spare carb from 1940 and a Smiths speedo. This bike has been restored recently and runs fine.The creation of one of the British motorcycle industry's most prolific and talented designers – Val Page – BSA's new single-cylinder range debuted in 1937. Intended mainly for the sidecar man, the two biggest sidevalve models were the 496cc M20 and 596cc M21, both of which came with rigid frames, girder forks and four-speed, hand-change gearboxes.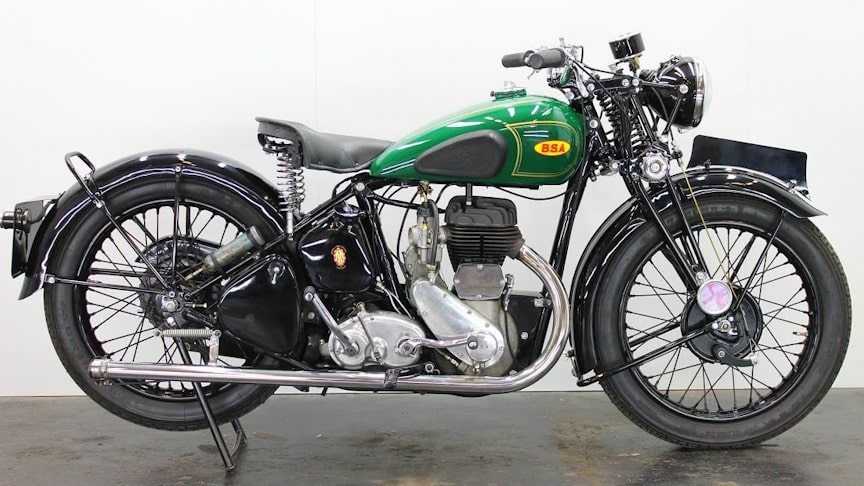 source.image: classic-motorcycle.com
Ruggedly built and endowed with copious low-speed pulling power, both models were highly successful in their intended role as sidecar tugs and many M20s did sterling service as despatch riders' mounts with Allied forces during WW2. The duo were regularly updated, important developments prior to WW2 including the adoption of a foot-change gearbox and, in the M21's case, a change to a longer-stroke engine and a capacity of 591cc.
M20 production continued after the end of hostilities while that of the M21 did not resume until early in 1946. Changes in this austere post-war era were understandably few at first, but in June 1948 the pair were updated with BSA's new telescopic front fork while in 1951 plunger rear suspension became available as an option.
Advertisement
Aluminium alloy cylinder heads were adopted on both models at the same time. Production of the M20 ceased in 1955, while the M21 lasted until the end of 1958, though it remained available to special order until 1963.