The miniature engine in this video is the TOYAN FS-B400 14cc Horizontally Opposed Flat-Four Four-Stroke Nitro Model DIY Engine Kits.Highly restore the realistic mechanical operation with precise camshaft, seperate intake & exhaust, 180° crankshaft precision machining, precision pump-style carburetor.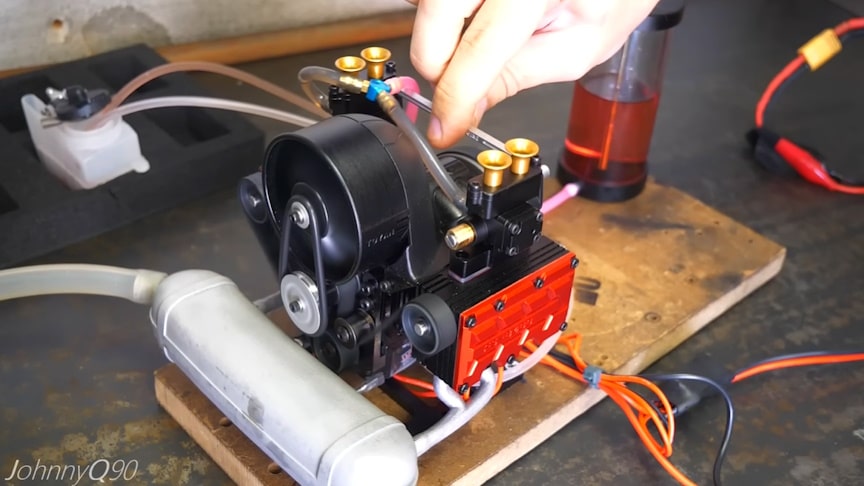 Besides, realistic exhaust pipe conveys a robust and powerful sound effect, high-speed fan with air duct for efficient cooling, as well as the high-quality transmission belt reduces the risk of gear skipping.
Experience the perfect combination of power and efficiency with the horizontal opposed four-cylinder engine model in precision engineering and advanced technology, delivering impressive horsepower and torque, ensuring exhilarating power output while maintaining outstanding performance.
Advertisement
Specifically designed for desktop experiments, DIY fuel vehicle projects to seamlessly integrates into various apps, making it an excellent choice for automotive enthusiasts and engineering mechanics. It is also an essential model for engine collectors.A powerful, reliable, and high-performance horizontal opposed four-cylinder engine that will take your passion for racing to new heights. Whether you are an experienced professional or just entering the RC racing world, this engine is the perfect companion to dominate the track and leave your competitors in the dust.
Displacement: 14cc (3.5cc x 4)
4-Stroke
Bore: 16.68mm
Stroke: 15.40mm
Air-cooled
Lubrication Method: Mixed Oil Splash Lubrication
Electric Start
Spark Plug Type: Four-stroke F-type Glow Plug
Fuel Type: 20-25% Nitro Fuel
Weight: 1850g
Dimensions: 18.4 x 15.2 x 14.1cm