The most common form of RC submarines are those operated by hobbyists. These can range from inexpensive toys to complex projects involving sophisticated electronics.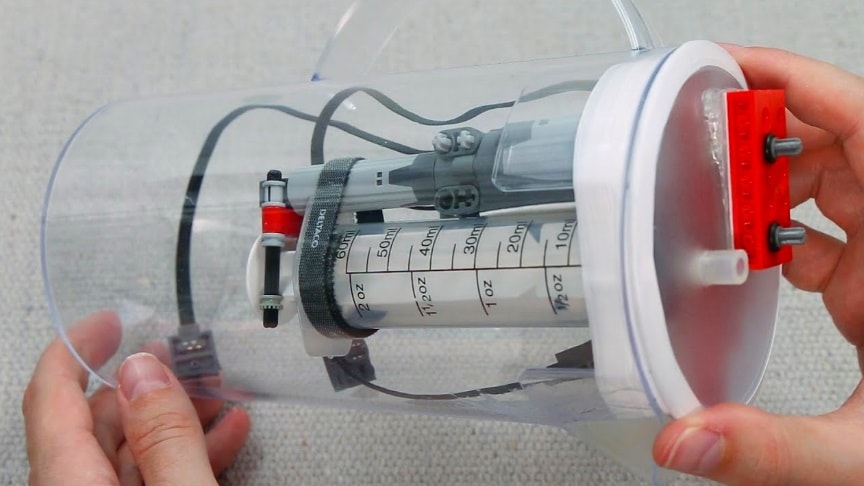 source/image: Brick Experiment Channel
Brick Experiment Channel shows how he makes a a radio-controlled submarine with Lego and other materials.The Lego-Powered Submarine uses a water jug as a hull. The video takes you through the process of sealing the hull itself, before dealing with sealing the rotating propeller shafts.
A large syringe is used as a ballast tank, with Lego motors used to actuate the tank and provide propulsion and steering.An existing RC submarine is used for parts, providing the necessary radio control hardware."At the end I test it in a lake."
Advertisement
The submarine specs:
Length: 22 cm (8.7 in)
Displacement: 1880 grams (66 oz)
Speed: 0.2 knots (10 cm/s)
Operating depth: 3 m (10 ft) – ballast tank will fail after that
Hull: 1.5 liter lemonade pitcher (Orthex)
Forward: Lego m-motor runs two 9-length propellers (2952)
Turn: Lego m-motor runs a geared-up (0.67:1) small 3-blade propeller (6041)
Ballast tank: Lego m-motor runs a Lego linear actuator connected to a 60 ml syringe
(Eotia marinade injector). Active range 20 ml
Radio control: 27 MHz controller dissembled from a toy submarine (Zantec Mini RC
U Boot). L298 H-bridge to drive motors
Power supply: 9V Lego battery box for the motors, 3.7V battery for the radio controller