With the Lyseo Gallery prototype, Bürstner presented an innovative milestone in the area of over-cab bed motorhomes in 2021. The multi-award winning semi-integrated low profile with an inflatable over-cab alcove is now going into serial production, and will even be available in a choice of two compact layouts straight away.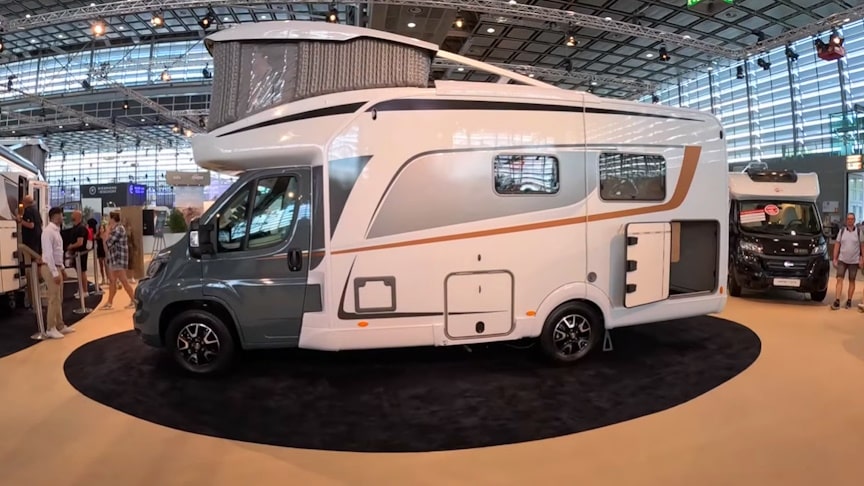 source.image: JARO SPEED
In line with the popular Lyseo TD model range, the motorhome comes with an insulated sandwich construction floor that ensures underfoot comfort at all times. Discover Bürstner's latest motorhome in detail now.The camper van is based on Fiat Ducato chassis powered by a 2.2l 140hp engine.
The Harmony Line graphics indicate that this vehicle is something special. The exterior, with its attractive decals and contemporary automotive design details incorporated into the front grille and the lights, already provides a few hints; on the inside, your attention is immediately caught by the elegant diamond-quilted upholstery, an entrance element in a finish that matches the interior throughout, and a special wall panel in the kitchen.
Advertisement
Once parked up, the alcove can then be elevated in only 90 seconds with the aid of compressed air and a specially developed air chamber system. The over-cab area is not angled like a standard pop-top roof but offers a real second living floor with a #wohnfühlen home away from home feel as it is elevated vertically.The vertically walled bedroom provides 110 cm (43 in) of headroom while raising total vehicle height to roughly 3.7 m (12 ft).