Own the open road with over 200 miles of range and instant acceleration with 550 ft lbs of torque. Take what you need with you with 1,800 lbs of payload capacity and a 6 ft utility truck bed, packaging a folding side table, pegboard bed flooring, onboard outlets and more into every corner and surface — complete with an additional 2ft pull out extension for a little extra room when you need it.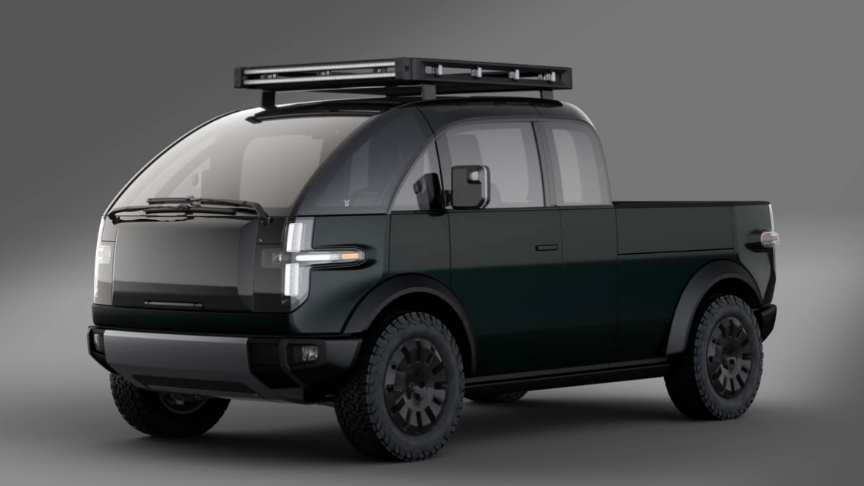 Our purpose-built pickup truck is designed to be the most cab-forward and space-efficient vehicle available, resulting in an open cabin with a commanding view of the road and seating for up to four. An exercise in function and form, the Canoo Truck makes use of every millimeter of space for all the utility you need for work and the weekend.
Canoo's EV platform functionally integrates all the critical components of an electric powertrain to be as flat and efficient as possible.Traditional EV platforms have power units, shock towers and mechanical steering columns that protrude into the vehicle and take up space.
Advertisement
By incorporating steer-by-wire and other space-saving technologies, Canoo's thin platform, with no need for an engine compartment, allows the company to offer a flatbed size comparable to America's best-selling pickup truck on a smaller footprint.
.Dual or rear motor configurations
· Up to 600 hp and 550 lb-ft of torque with dual motors
· Vehicle payload capacity of 1800lbs
· 200+ miles of battery range
· Steer-by-wire and brake-by-wire technology
· Tow hitch receiver
· Wheelbase: 112.2 inches/ 2850 mm
· Overall length: 184 inches/ 4677 mm (with bed extension: 213 inches/ 5400 mm)
· Width: 78 inches/ 1980 mm (with mirrors: 87 inches/ 2209 mm)
· Height: 76 inches/ 1920 mm (with roof rack: 82 inches/ 2085 mm)