The Carver is an innovative e-scooter-car from a electric scooter manufacturer from The Netherlands. Three wheels, a battery with a range of approximately 100 kilometers and two seats inside under a roof: The roofed three-wheeler belongs to the scooter class, is 88 cm wide, 159 cm long and has a top speed of 45 km/hr.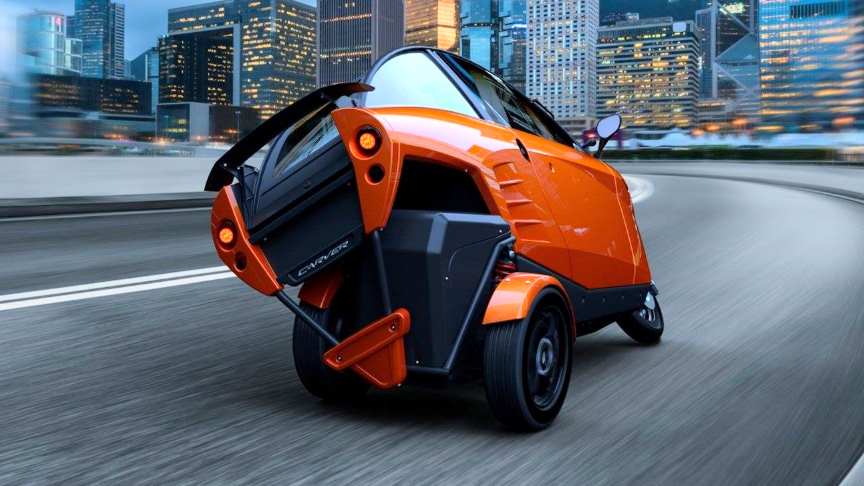 source/image: Ridecarver
There is room for a driver, a passenger and luggage room.Top speed is limited to 45 km/h and the 5.3 kWh battery pack is enough to make the 330 kg Carver have a range of 100 km. The sturdy steel cage of the 'cockpit' will protect you from outside impact. The unique tilting device keeps you balanced and secure.The electric Carver is emission-free, space-saving and silent.
You can charge via any available power outlet. One battery charge takes you from Amsterdam to Utrecht and back.The interior focuses on functionality, simplicity and comfort. Your smartphone is leading and connects to the high endmusic system with hands-free calling, navigation and personal playlists at your fingertips.
Advertisement
At the heart of each Carver you will find the patented Dynamic Vehicle Control (DVC ™), a globally unique tilting technology. This 100% Dutch innovation finally makes it possible to close the gap between a car and a scooter.
The DVC ™ automatically adjusts your balance in curves, slopes and uneven surfaces. By automatically linking the tilt angle of your cockpit to your driving behavior, the DVC ™ ensures an optimal distribution of gravity under all circumstances.