Experience the comfort and freedom of the camper – Vandeo Beach from Clever. With its extensive equipment and its flexible usage options, it is the ideal companion for all adventurers and outdoor enthusiasts. Here we present the facilities of the Vandeo Beach so that you can get an idea of ​​how it offers you the perfect travel experience. From the spacious sleeping accommodation to the practical kitchen equipment – you will be amazed by the many features and amenities that the Vandeo Beach has to offer.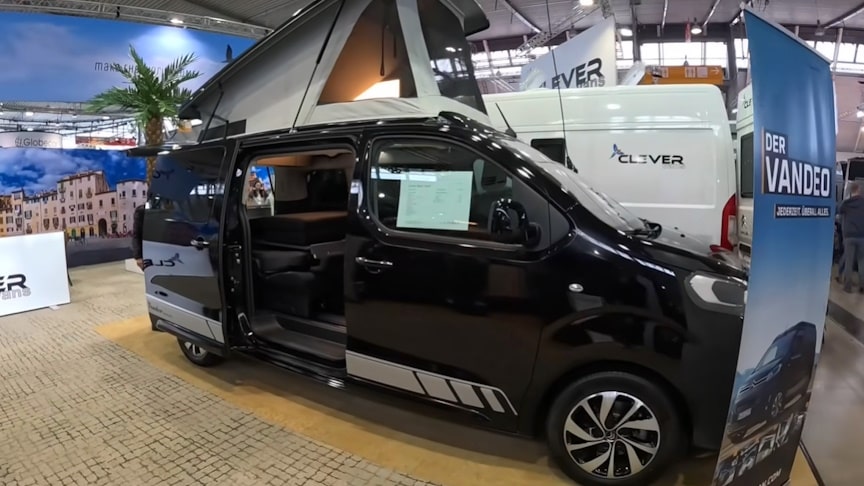 source.image: JARO SPEED
The sleeping roof offers an outstanding view, accompanied by a generous area for up to two people. The standard built-in cold foam mattress, which works in conjunction with a slatted frame, ensures excellent comfort and enables a restful night's sleep after an eventful day. The RV stands on Citroen Space Tourer 120hp diesel engine.Length: 495cm, Width: 192 Height: 192cm.Watch the video from JARO SPEED:
A spacious seating group for up to five people can be created by rotating the front seats. The table can be positioned flexibly and can be completely removed if necessary to create additional space.Your Vandeo beach has an electric gas ceramic hob ex works, which is located on the left in the rear. So nothing stands in the way of morning coffee or a warm meal.
Advertisement
If you wish, you can equip your Vandeo with a complete kitchen unit. This includes a hob and a sink with fresh and waste water canisters, along with a pull-out for the cool box, which are located in the rear of your van. An additional drawer with robust extensions also offers enough space for a variety of utensils.