On a small, but affordable Minneapolis lot, Jean and Joe built a barn-style house to maximize the vertical on their skinny lot. With a limited budget, but zoning that required a garage (priced at $30,000), they bought a $6,000 Quonset hut big enough to fit two cars and erected it with the help of friends over a weekend.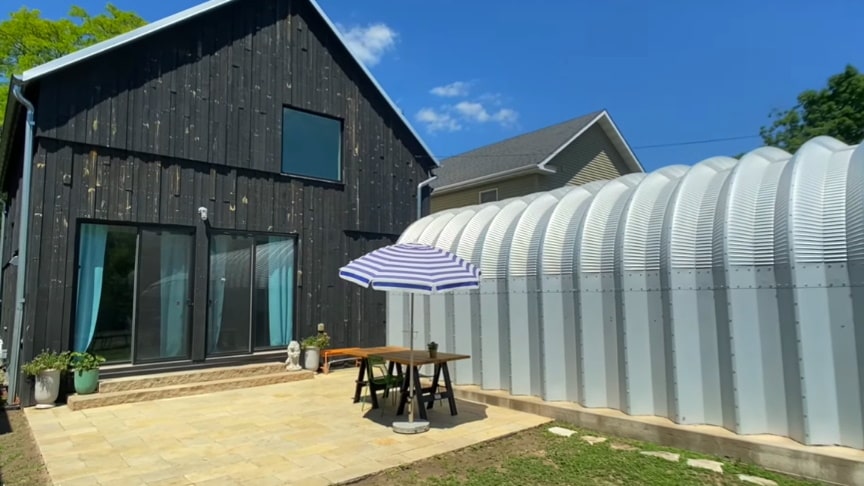 source/image(PrtSc): Kirsten Dirksen
They had originally thought of buying a weeHouse prefab, but decided that the barnhouse by Alchemy architects (creator of the WeeHouse) would fit better with the boxy Victorians in the neighborhood.
The barnhouse also opened up the interior for a floor-to-ceiling unobstructed living room. Wanting something that felt like the Manhattan apartment they had left behind with their move to Minneapolis, the couple chose not to use all possible second-floor space, and instead they created a treehouse-style bedroom that overlooks the living room.
Advertisement
To keep costs down they picked up an IKEA showroom kitchen at 70% off, working wooden highlights into the gray laminate to personalize the cabinets. Not wanting to spend on "floating walnut stairs", they instead opted for diamond-tread for the stairs to continue with the lighty industrial feel of the space.The couple's "treehouse" bedroom cabin has an inside window that both looks down at the living space and matches with the exterior window so the bedroom still experiences the sunrise.// Kirsten Dirksen