The Bugatti EB 110 is a mid-engine sports car produced by Bugatti Automobili S.p.A. from 1991 to 1995, when the company was liquidated. It was the only production model made by Romano Artioli's Italian incarnation of Bugatti.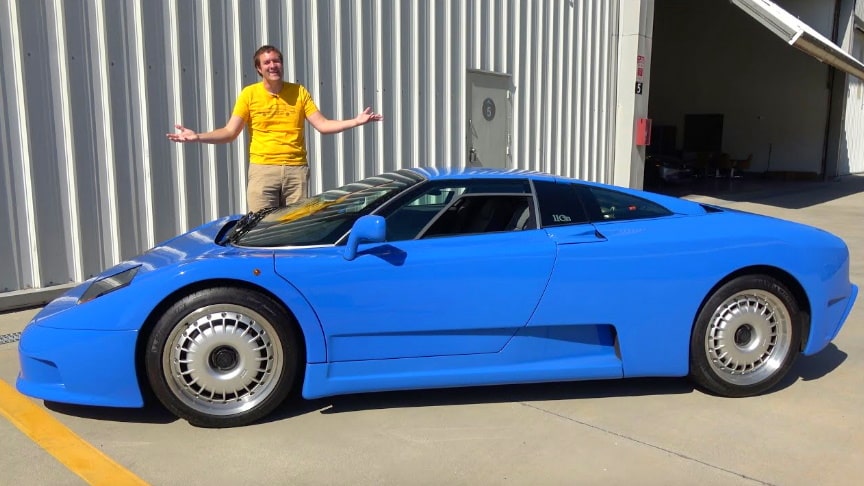 source/image(PrtSc): Doug DeMuro
It's time for the fabled Bugatti EB110, the weird 1990s Bugatti nobody knows about. Today I'm giving you a thorough tour of the EB110, and I'll show you all the amazing quirks and features of this very quirky, very rare car. I'll also drive the Bugatti EB110 and show you what it's like on the road.
The car has a 60-valve, quad-turbocharged V12 engine fed through 12 individual throttle bodies, powering all four wheels through a six-speed manual transmission. The 3,500 cc (3.5 L; 213.6 cu in) engine has a bore x stroke of 81 mm × 56.6 mm (3.19 in × 2.23 in). The EB110 GT had a power output of 412 kW (560 PS; 553 hp) at 8,000 rpm and 611 N⋅m (451 lb⋅ft) of torque at 3,750 rpm.
Advertisement
The performance oriented Super Sport version had the engine tuned to a maximum power output of 450 kW (612 PS; 603 hp) at 8,250 rpm and 650 N⋅m (479 lb⋅ft) of torque at 4,200 rpm.The car uses a double wishbone suspension, with the chassis built by Aérospatiale, an aircraft company, and made from carbon fibre. Equipped with Gandini's trademark scissor doors, it has a glass engine cover that provides a view of the V12 engine./wikipedia