Built for convenience and ease of use, these Next Generation RVs are aimed at evolving the camping experience. Lightweight and waterproof, the canvas-free CubeSeries camper is designed with cutting edge materials that comprises rugged aluminum, resilient composites, alloys, and renewable resources–which means an amalgamation of durability and a great space-to-weight ratio.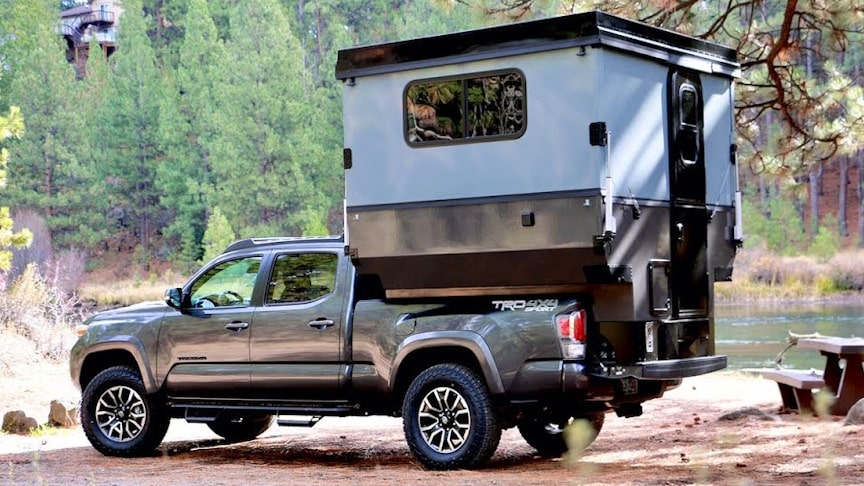 source.image: Cube Series
Despite the spacious interior, it is designed to fit in most garages while installed on the PU. Say goodbye to expensive standard Truck camper tie downs, turnbuckles, and torque lifts–the fast load inside bed anchor system technology takes care of all the hassle for you. With this sleek & durable camper in the back of your truck, you have a surreal camping experience at your fingertips!
The camper is very lightweight. Depending on the option you select, it will have a dry weight between 1206 to 1750 lbs. This camper is also designed to fit in the bed of most sub-compact pick-ups like the Toyota Tacoma, Chevy Colorado, Ford Ranger, etc.. and fit almost all full-size pick-ups as well. With the camper's innovative tie down system utilizing the factory tie down rings inside the pick up bed, there is no longer a need for expensive external tie down systems.
Advertisement
The Cube Series camper has a collapsed height of 52" (fits in most garages while on the truck!!!). With the camper's extremely low profile, being very light weight and having a jack system that can be turned to a high up horizontal position which increases ground clearance around the truck, You now have the ability to go camping in places you would not have considered with a different RV.