Today we are going to show you one of the best looking concept cars of 2023. The Cupra Dark Rebel is a two-seater futuristic sports car that has scissor doors, headlights inside the bodywork and a gaming style steering wheel.Sergi was lucky enough to take a look around the car, and also got to drive a real Cupra car on a real track, but in a virtual world! Let us know what you think in the comments!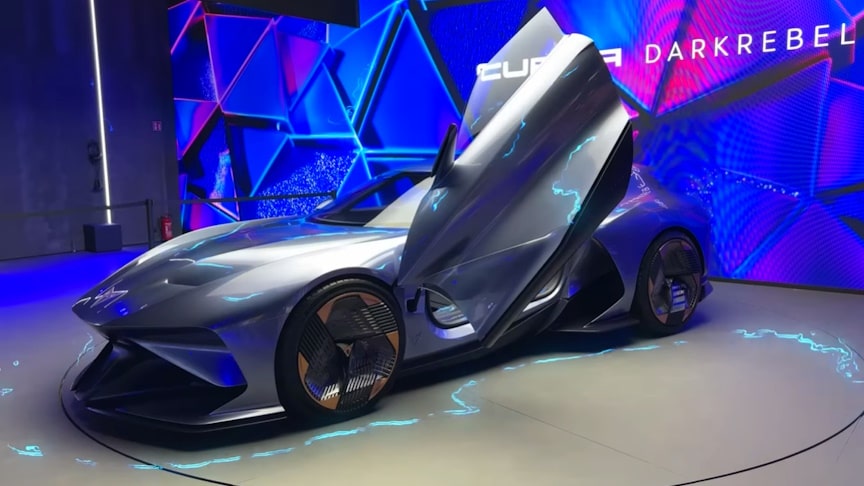 source.image: Supercar Blondie
The result is a 100% electric two-seat sports car with a shooting brake architecture that pushes the passion and disruptive mindset of the CUPRA brand. Incorporating an enigmatic exterior liquid body colour, light as a tangible material and heightened attention to sustainability. Watch the video from Supercar Blondie:
The CUPRA DarkRebel's cutting-edge exterior CUPRA design is enhanced by its dimensions of 4.5 meters in length, 2.2 meters in width, and 1.3 meters in height, the DarkRebel comes to life, especially when its doors open to a height of 2.2 meters. These helped achieve its 1/3 cabin in contrast to the 2/3 body proportions and strong shoulders that deliver its sporty soul.
Advertisement
From the interior the driver is well placed to experience the CUPRA DarkRebel's blistering performance on the asphalt. The CUPRA DarkRebel is the most powerful showcar ever made by the brand, with over 450 horsepower (peak power), accelerating from 0 to 100 km/h in under 4 seconds.The CUPRA DarkRebel was unveiled at the Volkswagen Group Night and will be presented to the public at the CUPRA Open Space at the IAA Mobility 2023 in Munich, Germany (4-10 September).