In this video from Big Oak Garage in Hokes Bluff AL, I catch up with Will Posey and check out their latest build, this 1961 Chevrolet Impala Custom Rod.Dan Duffy's "Dirty Martini".Dan had a Impala back in the day and He has had several cars since..But He always wanted to do another Impala. He had a Friend that Built some of His other Custom Cars that always wanted to Wedge Cut a Impala with Dan.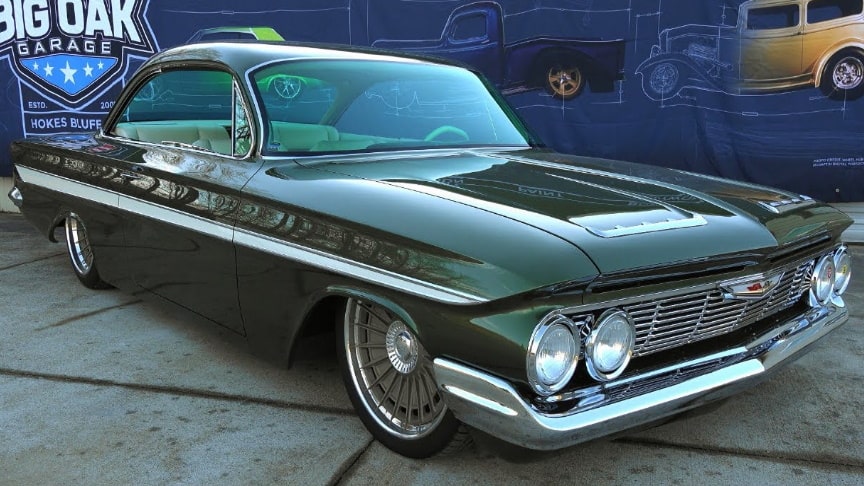 source/image(PrtSc): ScottieDTV
By the time Dan was ready.His buddy didn't have in Him to take on such a extensive project. Dan had Big Oak Garage do some work for Him in the past, and after He and Will had some conversations about doing a Impala.Will was sent to find the Car they would start with. The 1961 Impala He found was in pretty good shape and was a project that had been started by it's current owner.That was a couple of years back.2022.
It's finished and the work is incredible. This 1961 Chevrolet Impala is covered in it's own Dirty Martini green color trimmed in a off white…There are a ton of body modifications that the casual fan of the bubble top Impala won't see..That's why we got a stock bodied 1961 Chevrolet Impala to set next to it on part of this video.The leather interior is all custom and the color is a exact match to the rest of the trim color.
Advertisement
Wheels are one off custom that I'm sure not everyone will like.But that I absolutely love.Under the custom hood is a very cleanly installed polished 509 W block V-8 with a lot of custom panel work.The underside is just as nice as the top…Painted in both colors making it a true work of art.This 1961 Chevrolet Impala from Big Oak Garage is as custom of a bubble top Chevrolet Impala as I have seen.Very cool for sure.//ScottieDTV