In this video I stop by Big Oak Garage and check out the 1966 Cadillac "Mer-Low". This 66 Cadillac debuted at The SEMA Show back in 2021, soon after that it was damaged in the tralier on it's way to Texas Goodguys.The damage was so bad they didn't even show it.It was hauled it back to shop and because of the Custom Candy Red paint.The car had to be stripped down.damage fixed and then totally repainted.So when You hear someone say something is a "trailer queen".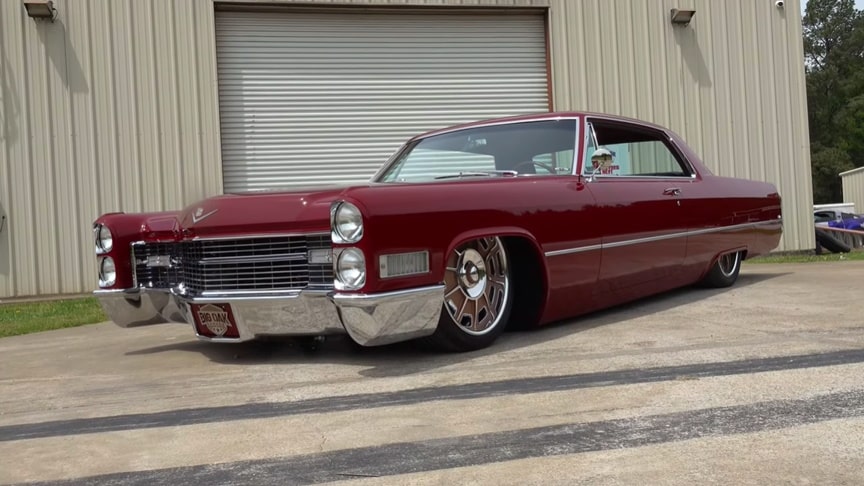 Realize that a trailer isn't always a safe place.Big Oak Garage brought this 1966 Cadillac to the 2023 ScottieDTV Dirty Dozen part of the 2023 Pigeon Forge Rod Run to be reintroduced. It looks as good as it ever did. Covered in a custom Candy Red paint with a goldish bronze trim color.A very cool color combination in my opinion.The custom interior is a couple of shades lighter red leather.
You can tell it's a custom interior.But it still looks like something that could have come from Cadillac back in the day.Wheels are always a personal choice and no one set will please everyone.The ones Big Oak Garage chose for this 66 Caddy are the perfect choice in my humble opinion.
Advertisement
Under the hood You will find a cleanly installed modern LT4 painted trim color looking like it had always been there. The suspension and brakes have been upgraded to modern technology so this custom 66 Caddy will turn and stop as good as it looks.This one was built to cruise.The 1966 Cadillac "Mer-Low" from Big Oak Garage.I'm a fan and I am sure You will be to.