Every now and then the bar gets raised in the custom car world…I thought the bar had been set as high as it could with the 1969 Chevrolet Camaro.I mean what else could be done to one…We had seen every color.Every style.They are classic cool for sure…But I thought they had reached a level of "more cool" I mean to choose one over the other would come down to personal choice.It would be be hard to claim one better than the other.Then step into central hall Las Vegas Convention center.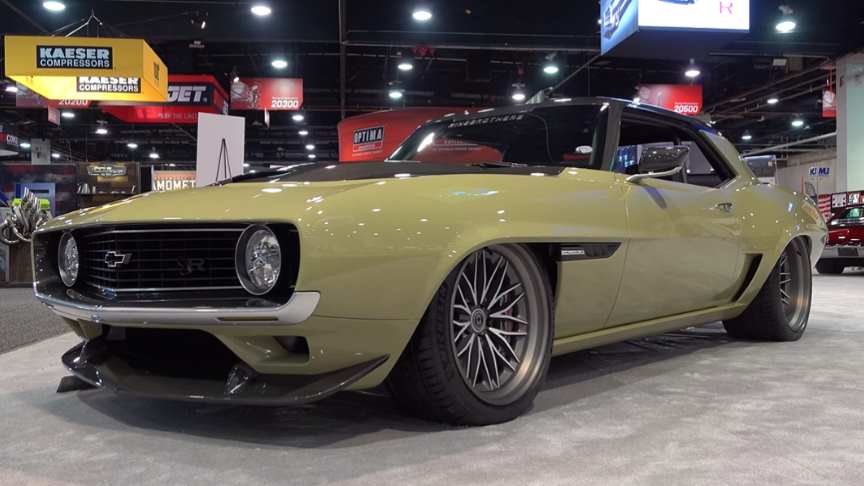 source/image(PrtSc): ScottieDTV
SEMA Show 2019.Ring Brother unveils.VALKYRJA.MIND BLOWN!!!.How could someone make the level of changes that have been made to this 1969 Chevrolet Camaro from the 2019 SEMA Show and not lose any of the 1969 Camaro cool.This 69 Camaro is different from any other 69 Camaro to come before it..But it is still all 1969 Chevrolet Camaro..There is carbon fiber…3D printed parts.CNC machined parts from one end to the other of this Ring Brothers Camaro.But ever one of them belongs there.
If Chevrolet would have had the technology available to them in 1969 and the budget.They may have come up with something like this…The hood is all custom and carbon fiber.Way different from stock 1969.But it fits.It looks like some backdoor race stuff you may have gotten from Chevrolet back in the day.
Advertisement
Under that hood is a LS3 890hp V8…The interior is all custom…But exactly what you would expect when You look into a impressive vehicle like this one.I could go on all day about this Ring Brother 1969 Chevrolet Camaro "VALKYRJA" from the 2019 SEMA Show…But I cover every inch in this 4K video.You be the judge.Coolest 1969 Chevrolet Camaro ever!?!?!.No doubt it would get My vote…Best build at the 2019 SEMA Show…Again I'm in!!.Don't be afraid to watch this one more than once.It has a ton of detail.Check it out!!//ScottieDTV