Automobile Manufacturers had style figured out.Everything that rolled off the assembly line was cool and Ford was no exception. The 1969 Ford Mustang is a car that has been done to death.To say they make cool Hot Rods is a understatement.You don't have to make many changes to them because they were all ready very cool cars from the factory.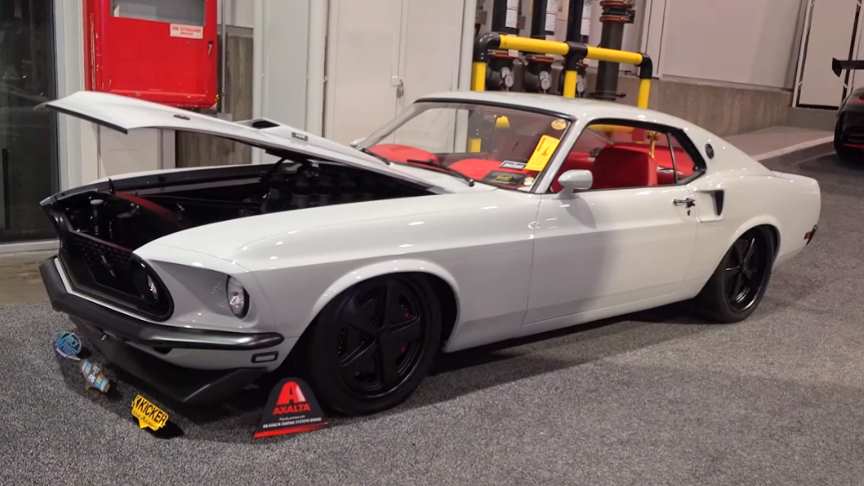 source/image: ScottieDTV
This 1969 Ford Mustang from the 2019 SEMA Show is covered is a off white.light grey paint.A color that it wears well.Then the custom interior is all leather and RED!.The interior design works well with the rest of the build and really pops! against the light color of the body.
Wheels are always a personal choice and no one set will ever please everyone but the black spoke design they chose to run on this 1969 Ford Mustang from the 2019 SEMA Show work for me.They have a design that could have been offered back in 1969 and being black they work with the rest of the colors of the car.Now back in 1969 You could get a Boss 429 Ford Mustang…But You couldn't get a Boss 529.or stacked injection.
Advertisement
This 1969 Ford Mustang from the 2019 SEMA Show has both….Very cool for sure!!…At the SEMA Show you never know what You will see.Most of it You will only see at SEMA.This 1969 Ford Mustang is not one of those crazy custom display vehicles…It's a Car You could drive out the door and head cross country.Not in Your face.But very clean and cool.I thought it was one You would want to see.via/read more: ScottieDTV