In this video from the 2021 World Of Wheels held in Birmingham Al I was front row for the unveiling of this 1973 Mercury Cougar Convertible."Diablo Gato".The car originally was scheduled to be unveiled at the 2020 SEMA Show..With that event being cancelled due to COVID they held the unveil at the 2021 World Of Wheels Birmingham.It's covered in mile deep black paint with a black convertible top.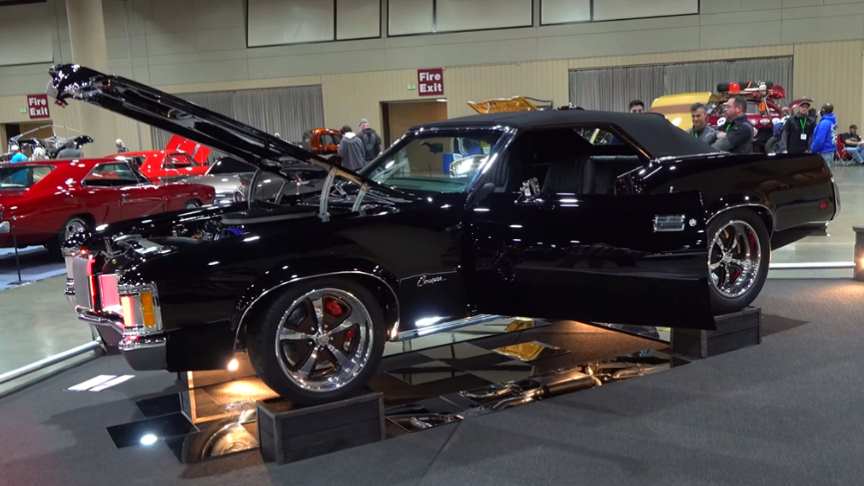 source/image(PrtSC): ScotieDTV
The interior is also black.Covered in a custom leather the interior like the rest of the car.Close to what would have come from the Mercury Factory back in 1973.Just a little cooler and much nicer..This 1973 Mercury Cougar Convertible is a restmod and the builder stayed real close to that style.
Everything has been upgraded and finished to a very nice level..Very few modifications from the original styling of a 1973 Mercury Cougar.. The underside is been done to a very nice level also and upgraded to make sure that all the power of the 351 Cleveland makes it to the ground.Wheels are always a personal choice.No one set will please everyone.
Advertisement
I like the wheels they chose to run on this 1973 Mercury Cougar Convertible form the 2021 World Of Wheels custom car show.They fit the rest of the build.They have a could have come from the factory look…But a little bigger and much nicer than anything offered back in 1973.I don't find many Mercury Cougars that have been done to this level and I see even less convertibles.You can tell this car was built to cruise around town with the top down./via/read more: ScottieDTV