The 1974 Plymouth Duster Street Machine "Kasper" from the 2018 SEMA Show.I have always been a closet Duster fan and this one started out as a 340 Plymouth Duster which happens to one of My all time favorites.Now this 1974 Plymouth Duster was bought brand new by the current owner.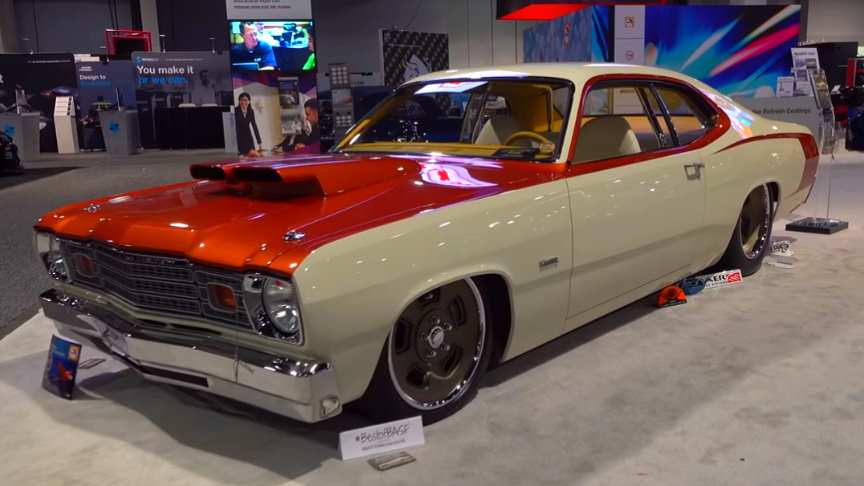 source/image(PrtSc): ScottieDTV
She drag raced the car for a period of time and then it sat.A hurricane almost washed it away but she was able to save it..Then it went to one shop to be restored and was almost lost again.Now here it is.setting at the 2018 SEMA Show.If there is a nicer 1974 Plymouth duster on the planet..I have not seen it.
This one.Named Kaspar because of it's history has had a lot of work done to it.Under the custom hood is a Hellcat create engine mated to a 6 speed transmission.The body has had several modifications made to it…But none that will really jump out at you…As wild as this build is.It's not over the top crazy.The colors chose are good for the period and the style of build. Different.But something that I think everyone will like.
Advertisement
The interior is all 1970's.I mean much more higher end than you would have got from the factory in 1970…But you will be having 70's flashback when you see that.Perfect for this build.Wheels are always a personal choice..But I like the ones the builder chose here…Again very fitting for this build..This is one cool 1974 Plymouth Duster. It was a big hit at the 2018 SEMA Show..I'm a fan and I'm sure you will be to..Very cool for sure./ScottieDTV