In this video I found a 1957 Chevrolet 3100 Pickup Truck at the 2019 SEMA Show in Las Vegas NV..This 3100 Chevrolet pickup is custom. But not over the top custom.There have been changes made to it..But none of the cool that came in 1957 was lost.Covered in baby blue paint.Not a color you see on a custom trucks everyday.But this 1957 Chevrolet 3100 from the 2019 SEMA Show wears it well.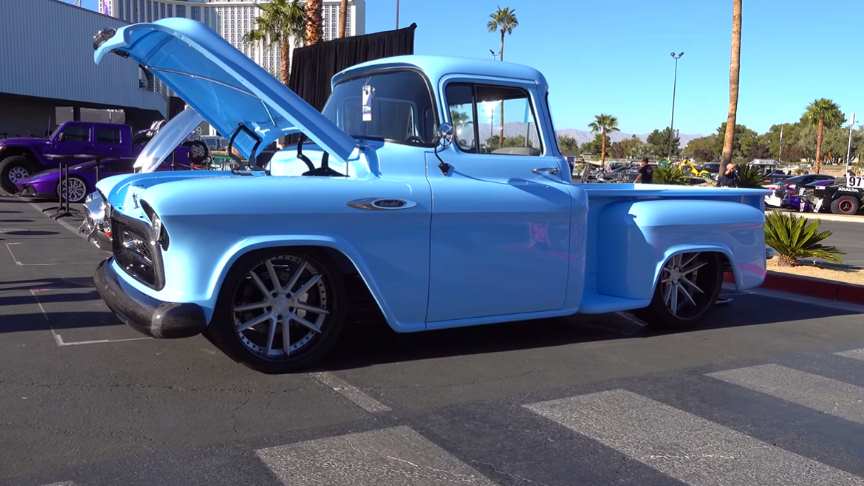 source/image: ScottieDTV
The color in it self draws attention to this custom pickup.But you will soon notice that the cool is in the details in this one.It still wears all the factory trim.The mirrors.Door handles.Nothing has been shaved.But things like the bumpers are now carbon fiber.Classic cool with a touch of modern aggressiveness.Very cool!.Wheels are always a personal choice and no one set will please everyone.
But I really dig the ones they chose for this 1957 Chevrolet 3100 Pickup Truck from the 2019 SEMA Show.They have nice center design with a carbon fiber hoop.They fit this build well.This 57 Chevy pickup has a great stance.Laying on the ground as it should be.I'm not sure of the power plant under the hood of this 1957 Chevrolet 3100 Pickup from the 2019 SEMA.
Advertisement
LS I wound guess.But the install.Very clean.Under the hood of this truck fits the rest of the build in that the cool is in the details.This custom 1957 Chevrolet 3100 Pickup Truck from the 2019 SEMA Show was one that made me smile and I am sure it will do the same for you.via: ScottieDTV