I built, to my knowledge, world's first Burgman 650 scooter streetfighter cafe racer crossover (it's difficult to categorize it, but I think it leans more to a cafe racer than a streetfighter). In any case it's heavily modified and unrecognisable.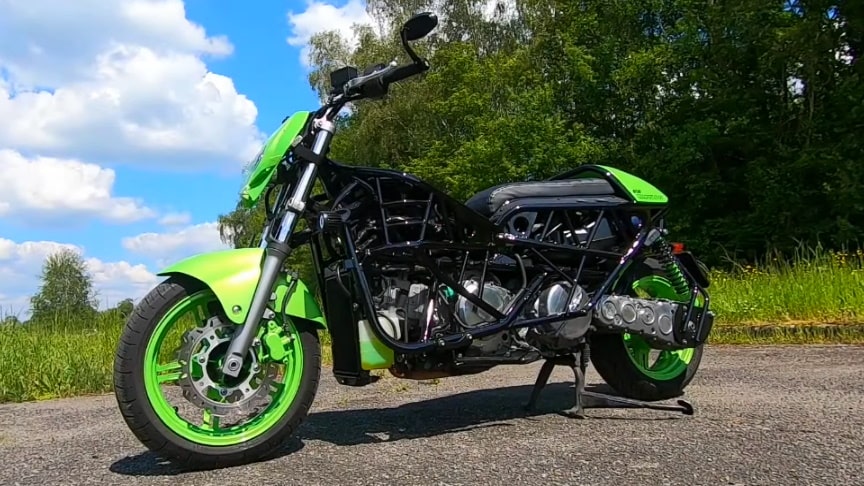 source/image(PrtSc): HennyButabi
The bike is a Suzuki Burgman AN 650 built in 2004 with 42000 kilometers. I had this project in my mind already for a long time so when I finally found a Burgman with a bit of work for a correct price I did not hesitate.I removed all tupperware and built some sort of exoskeleton tube frame on the existing frame. The original frame was not modified (only the brackets for the rear springs) so safety should not be an issue.via: HennyButabi
The bike is so wide because I wanted to keep the original gas tank (to avoid having to deal with external fuel pump and pressure regulator) and the original dashboard.The custom exhaust is a 2-1 Laser which is pretty loud.It drives just like a regular Burgman but less comfortable. You catch a lot of wind like on every naked bike.
Advertisement
Only thing I wish I did different is the location of the dash because you always have to look down to see how fast you are going which is annoying.During the build I replaced tires, brakes, spark plugs and all filters and fluids. It also has the infamous diesel sound that I still need to fix.The whole build process took me 10 months. It looks a bit different from the picture I had in my head due to practical reasons, but I am still very happy with the result.via/read more: HennyButabi