The Limo-Jet took 12 years to materialize and is the first of its kind.It stretches 42 feet, with the tail 11.6 feet in the air. Even with the aluminum fuselage it tips the scales at 12,000 pounds, and if that still doesn't help you understand the size of this thing, those are freaking 28-inch wheels it's riding on.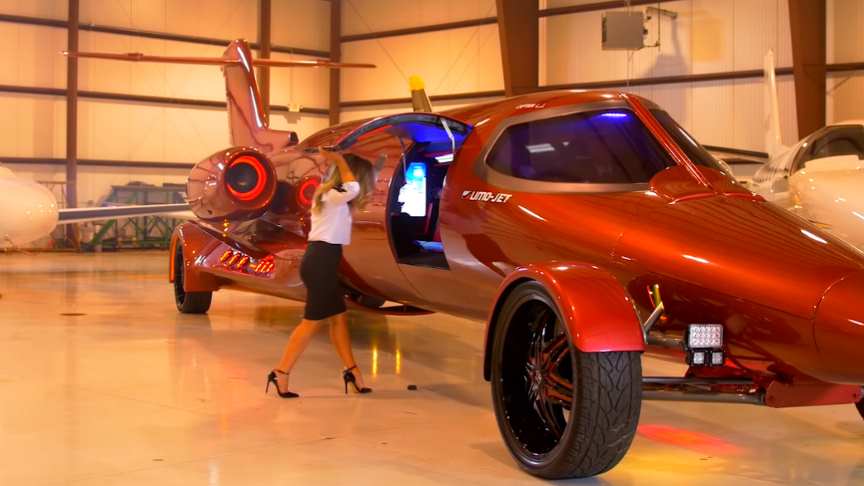 source/image(PrtSc): Limo Jet
The control wheel was switched out for a four-spoke steering wheel and the rest of the panel was fitted with instruments from a first generation Chevrolet Silverado. The driver sits in front where the former cockpit was located.
The limo jet is designet by Dan Harris and owner Frank DeAngelo.The Limo Jet has been featured worldwide to the elite market and has been featured in #caraudio shows and newsarticles. This fully functioning #CustomLimo seats up to 8 and is completely StreetLegal! Despite the length and weight, the Learjet limo can still clock 100 mph, with a standard GM Vortec V8 powering it.
Advertisement
There is a 42-inch plasma TV, an extensive lighting system and seating for up to 18 people that sits atop the infinity finish floor.The rest of the interior looks just like your average Vegas nightclub, with loads of neon lights, an infinity floor, a flat-screen TV, a 17,000-watt sound system and 18 seats for you and, well, plenty of other people.//Limo Jet