Discover our Large Garage model, the latest addition to our motorhome lineup with game-changing features.Dembell's patented garage bedroom floor lift system, 2.1-meter interior height, twice Red Dot Design Award-winning design, and innovative technical solutions make us stand out from the rest. Dembell motorhomes are built on Mercedes Benz Actros Gigaspacewith all the existing extras.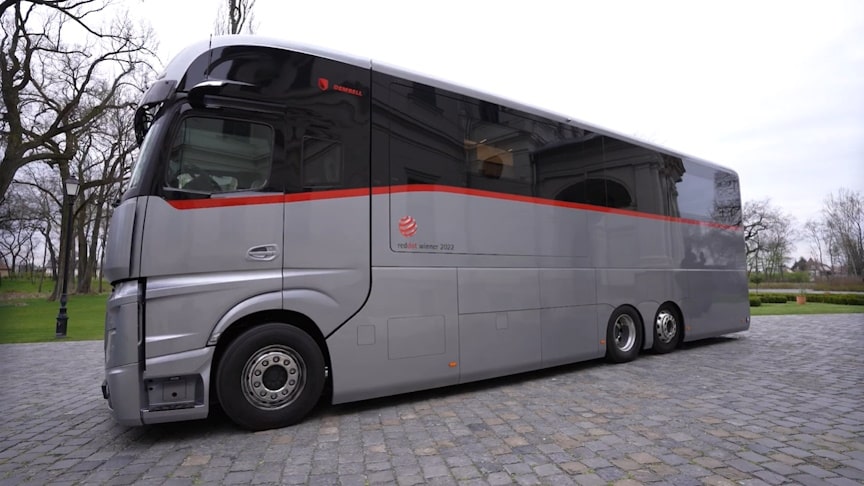 source.image: Dembell
Enjoy top-notch solutions included as standard, along with a 5-year warranty and a delivery time of just 1 year. Not only there is enough space in the garage for cars 4 meters long, but the bedroom above it remains comfortable too.The floorplan is clean and clever for the maximum space. The open plan layout creates a spacious, adaptable living space for the highest possible convenience.
Unique to the market, the floor plan is completely flat without any steps or elevated levels and with an internal height of 2.1 meters, just like a studio apartment.The shower and the washbasin compartment may be separated or may open into single room. The shower cabinet is surprisingly spacious with strong, utility grade water pressure. The bathroom comes with a towel dryer radiator.
Advertisement
The high-end kitchen has custom solutions for maximum comfort. The elegance is ensured by the Miele, Elica and Liebherr appliances.Four separate air-conditioned car seats with built-in air spring system and massage function. The last two rows of seats and a queen size bed with an electronic elevator are special in-house developments. Unique upholstered plastic parts everywhere.