The fully integrated Dethleffs Espirit I 7010 is well equipped and has the right layout with simple longitudinal beds and a large drop-down bed at the front. Several cargo hatches as well as a continuous cargo hatch. The car feels airy and spacious.Winter: With the Alde Hydronic Heating (waterborne heating system), the car is suitable for use in both summer and winter.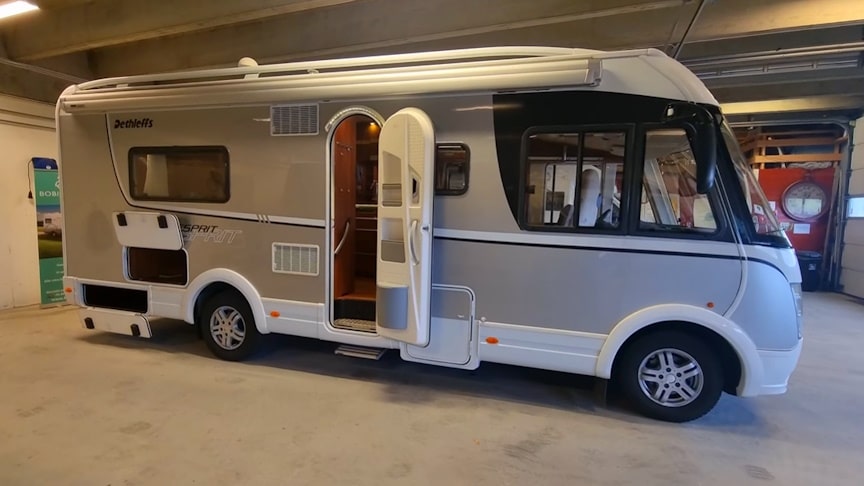 source.image: Bobilagenten AS
The heating system emits a good and even temperature throughout the car, which makes it great to use both on ski trips.Outside, you have an awning, bicycle rack, roof rails, electric step, support legs, mosquito door, outdoor lighting, LED-bar additional light and TV aerial.Among other things, you will find a great interior solution with reversible chairs with armrests that form a pleasant seating area.
Air conditioning, airbags on both sides at the front, electric window, electric mirrors, trip computer and a vigorous 2.3L Turbodiesel engine of 150 hp in combination with cruise control that makes the motorhome ready for travel.NX-5 gas alarm is also in place.Large window surfaces and roof hatches provide plenty of light. The windows have curtains, blinds and mosquito nets. Kitchen with hot/cold water, cooker hood, kitchen fan, fridge with freezer and storage space. Note that the car also has an oven.
Advertisement
The bathroom is located at the back of the car and has a separate shower cubicle solution, which is practical. Large wardrobe.Large kitchen with deep drawers and several cupboards provides plenty of storage. 3 burners enable you to create great dishes, or as Dethleffs themselves call it: Dethleffs Gourmet Center. In connection with the kitchen, you will also find an oven where you can make good dishes or how about freshly baked bread rolls in the morning?Refrigerators that are automatic automatically switch between gas/230v/12v depending on what is most appropriate.via