This Compact "Cube Style" Evap. Cooler couldn't work better. it has super strong 1500 CFM Air-Flow (2000 Max.), drops temps up to 30F (from 90F to 64F) in testing, and has a 14 gallon water reservoir for an *8-10 hr run time. The unit is 12V so one 12v solar panel runs it. (a 12v battery or cars cig. Lighter socket can also power it) and with small modification it can be AC powered. Note that it's only slightly larger than the "five gallon bucket" evap air cooler but has 10 times the cooling power.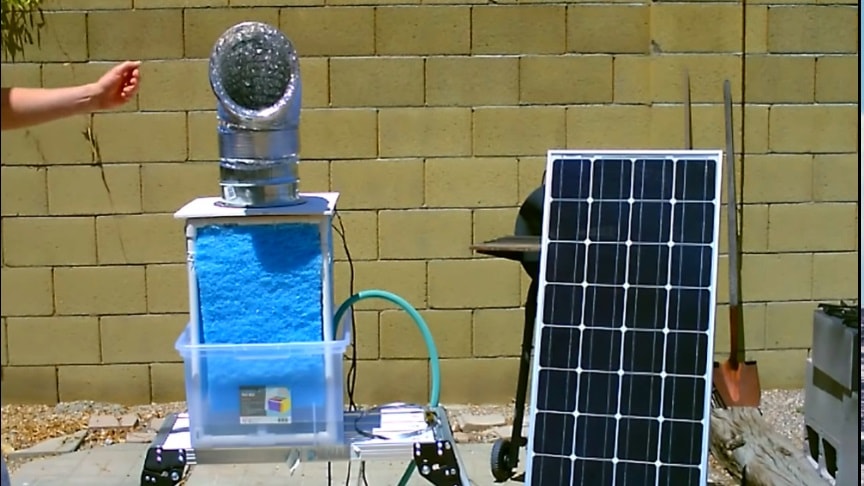 source/image: desertsun02
Its skeletal frame doubles as the plumbing and the rest of it is just 4 cooling pads and the fan (there's no wasted or unused space on it). Cost to build is somewhere around 50 to 70 dollars. Note that this units' performance is comparable to or better than similar ones being sold for 300-800 bucks!
The full build instructions are near the end of the video. made with 1/2″ PVC, blue cooler pad, 7″ radiator fan, small (190gph) water pump (fish tank pump) and some 8″ diameter metal tubing. that's about it. most small radiator fans are 80w and water pumps that size are about 20w – so for off-grid operation all you need is one 100w 12v solar panel!
Advertisement
Another way to run it is just plug in in your cars' cigarette lighter socket. note that you probably don't need a 190 gph pump. anything over 125 or 150 should be strong enough. works great indoors and out. For indoor use vent the unit using cross ventilation – meaning keep a window or two cracked for a flow of fresh air./ desertsun02